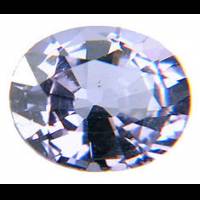 Tunduru, Tunduru District, Ruvuma Region, Tanzania
0.44 carats
© Mineral Classics
In mineralogy, the name Musgravite refers to the mineral called Magnesiotaaffeite-6N'3S. It crystallizes in the trigonal system.
The closely-related Magnesiotaaffeite, which crystallizes in the hexagonal system, is known in mineralogy as Magnesiotaaffeite-2N'2S. Together, they are both part of the
Taaffeite
group.