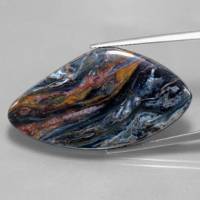 Namibia
30.5 carats
© gemselect.com
Pietersite was discovered by Sid Pieters in 1962 in Namibia, and named in his honour.
Pietersite is a chalcedony with embedded fibers of amphibole minerals with varying degrees of alteration. The fibers cause a chatoyancy similar to that seen in tiger's eye.
Pietersite colours include blue, rusty red, gold and brown.