Muscovite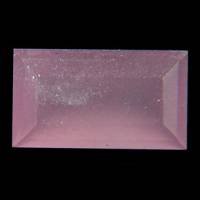 Brazil
1.94 carats
© Mineral Classics
The name Muscovite derives from its use in windows as muscovy glass, Muscovy being an old Russian Province.
Muscovite is the most common member of the Mica Group. It typically occurs as massively crystalline material in "books" or in flaky grains.
Muscovite can be pink, colourless, silver-white, yellowish, greenish with a pearly luster on cleavage faces. It often has a sparkly look.
Because of its silvery sheen, Muscovite is sometimes called cat's silver.
General Information
Varieties/Types:

Fuchsite

- A greenish chromium-bearing variety of Muscovite.

Verdite

- A green ornamental stone, primarily an impure Fuchsite from South Africa.

Chemical Formula

Gemstones of the world

(2001)

, More from other references
Photos of natural/un-cut material from mindat.org
Physical Properties of Muscovite
Mohs Hardness

2 to 3

Gemstones of the world

(2001)

, More from other references
Specific Gravity

2.78 to 2.88

Gemstones of the world

(2001)

, More from other references
Tenacity

Flexible,Elastic

Handbook of Mineralogy

(2001)

,
Cleavage Quality

Perfect

Gemstones of the world

(2001)

, More from other references
Optical Properties of Muscovite
Refractive Index

1.552 to 1.618

Handbook of Mineralogy

(2001)

,
Optical Character

Biaxial/-

Handbook of Mineralogy

(2001)

,
Pleochroism

Weak when colored.

Handbook of Mineralogy

(2001)

,
Dispersion

Weak

Handbook of Mineralogy

(2001)

,
Colour
Colour (General)

Pink, colourless, silver-white, yellowish, greenish.

Gemstones of the world

(2001)

, More from other references
Transparency

Transparent,Translucent

Gemstones of the world

(2001)

, More from other references
Lustre

Vitreous,Pearly

Gemstones of the world

(2001)

, More from other references
Crystallography of Muscovite
Crystal System

Monoclinic

Gemstones of the world

(2001)

, More from other references
Habit

Crystals tabular to columnar, striated, pseudohexagonal or diamond-shaped. As stellate aggregates, plumose, globular; scaly, granular, compact massive.

Handbook of Mineralogy

(2001)

,
Geological Environment
Where found:

A common rock-forming mineral, in phyllites, schists, and gneisses; in granites, granite pegmatites, and aplites. Formed from other minerals under hydrothermal conditions; may be detrital or authigenic.

Handbook of Mineralogy

(2001)

,
Further Information
Mineral information:
Muscovite information at mindat.org