Nephrite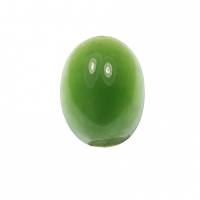 Onot river, Irkutsk Oblast, Russia
8.00 carats
© Brian Kosnar - Mineral Classics
Nephrite (Greek - kidney) is a dense, fibrous aggregate variety of the tremolite-actinolite series that is tougher than
jadeite
. It can be all colours, often with a yellow tint. The most valuable is green. But green colour of nephrite is often more subdued and darker than jadeite's green colour.
Nephrite is known as the toughest gem and carving material.
Nephrite is a readily available, more affordable alternative to jadeite.
General Information
A variety or type of:
Jade
Other Names/Trade Names:
Chemical Formula

Gemstones of the world

(2001)

, More from other references
Photos of natural/un-cut material from mindat.org
Nephrite Treatments

Less commonly dyed than jadeite-jade because of its more compact structure, may be impregnated - Blue Chart Gem Identification, Herve Nicolas Lazzarelli, 2010, p 5

Physical Properties of Nephrite
Mohs Hardness

6 to 6.5

Blue Chart Gem Identification

(2010)

, More from other references
Specific Gravity

2.90 to 3.10

Blue Chart Gem Identification

(2010)

, More from other references
Tenacity

Brittle

Gemstones of the world

(2001)

,
Cleavage Quality

None

Gemstones

(2009)

,
Fracture

Splintery

Gemstones

(2009)

,
Optical Properties of Nephrite
Refractive Index

1.600 to 1.627

Gemstones of the world

(2001)

, More from other references
Optical Character

Biaxial/-

Gemstones

(2009)

,
Birefringence

0.027 to often more

Gemstones of the world

(2001)

, More from other references
Pleochroism

Nil

Gemstones

(2009)

,
Dispersion

Nil

Gemstones

(2009)

,
Chatoyancy

Yes

Gemmological Tables

(2004)

,
Colour
Colour (General)

Green, gray-green, reddish-brown, black

Gemmological Tables

(2004)

, More from other references
Transparency

Translucent,Opaque

Gemmological Tables

(2004)

, More from other references
Fluorescence & other light emissions
Fluorescence (General)

None

Gemstones of the world

(2001)

,
Crystallography of Nephrite
Crystal System

Monoclinic

Blue Chart Gem Identification

(2010)

, More from other references
Habit

Fibrous

Blue Chart Gem Identification

(2010)

, More from other references
Geological Environment
Where found:

Occurs in serpentine rocks, and as river or beach pebbles.

Gemstones of the world

(2001)

, More from other references
Further Information
Mineral information:
Nephrite information at mindat.org
Significant Gem Localities

Australia

Nichol (2000)

Canada

Nichol (2000)
Nichol (2000)

China

Italy

Nichol (2000)

New Zealand

Switzerland

Nichol and Giess (2005)

Taiwan

Adams and Beck (2009)

USA

Santa Lucia Mts (Santa Lucia Range)

Los Burros Mining District

Paradise (1985)
Ward (1999)