Natrolite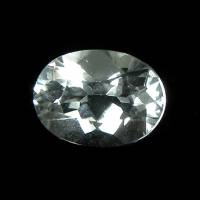 Chimney Rock Quarry, Bridgewater Township, Somerset Co., New Jersey, USA
0.68 carats
© Brian Kosnar - Mineral Classics
Natrolite was named by Martin Heinrich Klaproth in 1803. The name is derived from Greek "natron" - soda, in reference to the sodium content and "lithos" - stone.
Natrolite produce some fine crystal specimens. The mineral is also often found as compact fibrous aggregates. It is usually white or colorless, sometimes reddish, greenish or yellowish. The luster is vitreous, finely fibrous specimens have silky luster.
Colourless facet rough natrolite is seldom.
General Information
Chemical Formula

Gems, Sixth Edition

(2006)

, More from other references
Photos of natural/un-cut material from mindat.org
Physical Properties of Natrolite
Mohs Hardness

5 to 5.5

Blue Chart Gem Identification

(2010)

, More from other references
Specific Gravity

2.20 to 2.26

Blue Chart Gem Identification

(2010)

, More from other references
Tenacity

Brittle

Gemstones

(2009)

,
Cleavage Quality

Perfect

Blue Chart Gem Identification

(2010)

, More from other references
Fracture

Irregular

Gemstones

(2009)

,
Optical Properties of Natrolite
Refractive Index

1.478 to 1.493

Blue Chart Gem Identification

(2010)

, More from other references
Optical Character

Biaxial/+

Blue Chart Gem Identification

(2010)

, More from other references
Birefringence

0.012 to 0.013

Blue Chart Gem Identification

(2010)

, More from other references
Pleochroism

Nil

Gemstones

(2009)

,
Dispersion

Weak

Gemstones

(2009)

,
Colour
Colour (General)

Colourless, yellowish, white, gray, brownish

Gemmological Tables

(2004)

, More from other references
Transparency

Transparent,Translucent,Opaque

Gemmological Tables

(2004)

, More from other references
Lustre

Vitreous

Gemstones

(2009)

,
Crystallography of Natrolite
Crystal System

Orthorhombic

Blue Chart Gem Identification

(2010)

, More from other references
Habit

Fibrous aggregate

Blue Chart Gem Identification

(2010)

, More from other references
Geological Environment
Where found:

Occurs in cavities in amygdaloidal basalts and related igneous rocks in association with other zeolites

Gems, Sixth Edition

(2006)

,
Inclusions in Natrolite

Common rod-like yellowish-brown inclusions (acmite) - Blue Chart Gem Identification, Herve Nicolas Lazzarelli, 2010, p 9

Further Information
Mineral information:
Natrolite information at mindat.org
Significant Gem Localities

Canada

La Vallée-du-Richelieu RCM

Gems, Sixth Edition, Michael O'Donoghue, 2006, p. 432

Russia

USA