Painite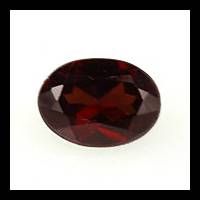 Myanmar
0.49 carats
© Palagems
Painite is named after Arthur Charles Davy Pain, English gem collector who first recognized the mineral.
Painite forms elongated, pseudo-orthorhombic transparent deep garnet-red crystals. Pleochroism is ruby-red and pale brownish orange or pale red-orange.
Painite was recognized as the rarest gem material on Earth, however many more stones have since been found. Many hundred stones have been faceted, but facet rough material of fine quality is still rare.
General Information
Chemical Formula

Gems, Sixth Edition

(2006)

, More from other references
Photos of natural/un-cut material from mindat.org
Physical Properties of Painite
Mohs Hardness

7.5 to 8

Blue Chart Gem Identification

(2010)

, More from other references
Specific Gravity

4.00 to 4.03

Blue Chart Gem Identification

(2010)

, More from other references
Fracture

Conchoidal

Gemstones

(2009)

,
Optical Properties of Painite
Refractive Index

1.787 to 1.816

Blue Chart Gem Identification

(2010)

, More from other references
Optical Character

Uniaxial/-

Blue Chart Gem Identification

(2010)

, More from other references
Birefringence

0.029

Blue Chart Gem Identification

(2010)

, More from other references
Pleochroism

Strong dichroism: yellow-brown - red to brown-violet (pinkish samples: nearly colorless - pale orangy-pink)

Blue Chart Gem Identification

(2010)

, More from other references
Colour
Colour (General)

Deep garnet-red

Gems, Sixth Edition

(2006)

, More from other references
Transparency

Transparent

Gems, Sixth Edition

(2006)

, More from other references
Lustre

Vitreous

Gemstones

(2009)

,
Fluorescence & other light emissions
Fluorescence (General)

Inert to weak red

Blue Chart Gem Identification

(2010)

,
Fluorescence (Short Wave UV)

Red or greenish

Blue Chart Gem Identification

(2010)

,
Crystallography of Painite
Crystal System

Hexagonal

Blue Chart Gem Identification

(2010)

, More from other references
Habit

Elongated, pseudo-orthorhombic

Gems, Sixth Edition

(2006)

, More from other references
Geological Environment
Where found:

In gem gravels

Handbook of Mineralogy

(2001)

,
Inclusions in Painite

Feather-like inclusions, hexagonal tabular crystals

Further Information
Mineral information:
Painite information at mindat.org
Significant Gem Localities

Myanmar

Ted Themelis (2008) Gems & mines of Mogok
Ted Themelis (2008) Gems & mines of Mogok
Ted Themelis (2008) Gems & mines of Mogok
Ted Themelis (2008) Gems & mines of Mogok
Gems, Sixth Edition, Michael O'Donoghue, 2006, p. 434