Pectolite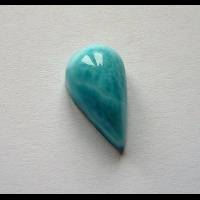 Larimar
Dominican Republic
6.75 carats
Pectolite is named after Greek "pektos" - well put together, alluding to its compact structure.
Pectolite usually occurs as translucent globular masses or crystals showing tabular habit. The material is colourless, white, bluish, greenish.
Massive pectolite from the Dominican Republic of light blue to sky-blue colour may be offered as a
turquoise
substitute under the trade name
Larimar
. Pectolite from Alaska has been used as a
jade
substitute.
General Information
Varieties/Types:

Larimar

- Blue variety of pectolite found in Dominican Republic

Chemical Formula

Gemmological Tables

(2004)

, More from other references
Photos of natural/un-cut material from mindat.org
Pectolite Simulants

Sometimes used as jade simulant - Blue Chart Gem Identification, Herve Nicolas Lazzarelli, 2010, p 5

Physical Properties of Pectolite
Mohs Hardness

4.5 to 5

Gemstones of the world

(2001)

, More from other references
Specific Gravity

2.74 to 2.90

Blue Chart Gem Identification

(2010)

, More from other references
Tenacity

Brittle

Gemstones

(2009)

,
Cleavage Quality

Perfect

Gems, Sixth Edition

(2006)

, More from other references
Fracture

Splintery

Gemstones

(2009)

,
Optical Properties of Pectolite
Refractive Index

1.595 to 1.645

Blue Chart Gem Identification

(2010)

, More from other references
Optical Character

Biaxial/+

Gemmological Tables

(2004)

, More from other references
Birefringence

0.028 to 0.038

Blue Chart Gem Identification

(2010)

, More from other references
Pleochroism

Nil

Gemstones

(2009)

,
Dispersion

Very weak

Gemstones

(2009)

,
Colour
Colour (General)

Light blue, light green, colourless, gray.

Gemstones of the world

(2001)

, More from other references
Causes of Colour
Blue, Cu2+ in octahedral coordination

Pragmatic Spectroscopy For Gemologists

(2011)

,
Transparency

Transparent,Translucent

Gemstones of the world

(2001)

, More from other references
Lustre

Silky

Blue Chart Gem Identification

(2010)

, More from other references
Fluorescence & other light emissions
Fluorescence (Short Wave UV)

Yellow-orange common and phosphorescence

Blue Chart Gem Identification

(2010)

,
Fluorescence (Long-Wave UV)

May show orange-pink fluorescence under (material from Bergen Hill New York, USA) and a yellow fluorescence with green phosphorescence(Paterson, New Jersey, USA)

Gems, Sixth Edition

(2006)

,
Crystallography of Pectolite
Crystal System

Triclinic

Blue Chart Gem Identification

(2010)

, More from other references
Habit

Globular masses, the rarer crystals showing tabular habit

Gems, Sixth Edition

(2006)

, More from other references
Geological Environment
Where found:

Occurs in nepheline syenites.

Gems, Sixth Edition

(2006)

,
Further Information
Mineral information:
Pectolite information at mindat.org
Significant Gem Localities

Canada

Gems, Sixth Edition, Michael O'Donoghue, 2006, p. 435

La Vallée-du-Richelieu RCM

Gems, Sixth Edition, Michael O'Donoghue, 2006, p. 435

Dominican Republic

Gems, Sixth Edition, Michael O'Donoghue, 2006, p. 435