Pyroxmangite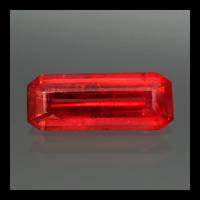 Brazil
3.17 carats
© Palagems
Pyroxmangite is misnamed as being a manganese member of the pyroxene group; it is a pyroxenoid.
Pyroxmangite forms translucent red, red-brown, dark-brown, pink, brownish, yellowish, purplish tabular crystals with vitreous to pearly lustre. Crystals are frequently twinned.
Fine crystals have been faceted, but it is usually more suitable for cabochons.
General Information
Chemical Formula

Gemmological Tables

(2004)

, More from other references
Photos of natural/un-cut material from mindat.org
Physical Properties of Pyroxmangite
Mohs Hardness

5 to 6

Gemmological Tables

(2004)

, More from other references
Specific Gravity

3.76 to 3.77

Gemmological Tables

(2004)

, More from other references
Cleavage Quality

Perfect

Gems, Sixth Edition

(2006)

, More from other references
Fracture

Uneven

Gemstones

(2009)

,
Optical Properties of Pyroxmangite
Refractive Index

1.735 to 1.756

Gemmological Tables

(2004)

, More from other references
Optical Character

Biaxial/+

Gemmological Tables

(2004)

, More from other references
Birefringence

0.017 to 0.019

Gemmological Tables

(2004)

, More from other references
Dispersion

Moderate

Gemstones

(2009)

,
Colour
Colour (General)

Red, pink, brownish

Gemmological Tables

(2004)

, More from other references
Transparency

Transparent

Gemmological Tables

(2004)

, More from other references
Lustre

Vitreous,Pearly

Gemstones

(2009)

,
Crystallography of Pyroxmangite
Crystal System

Triclinic

Gemmological Tables

(2004)

, More from other references
Habit

Tabular

Gems, Sixth Edition

(2006)

, More from other references
Geological Environment
Where found:

Pyroxmangite occurs in regionally metamorphosed manganese ore deposits and in manganiferous rocks.

Gems, Sixth Edition

(2006)

, More from other references
Further Information
Mineral information:
Pyroxmangite information at mindat.org
Significant Gem Localities

Australia

Gems, Sixth Edition, Michael O'Donoghue, 2006, p. 442

Japan

Gems, Sixth Edition, Michael O'Donoghue, 2006, p. 442

Peru