Rutile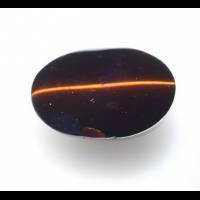 Sri Lanka
4.77 carats
Rutile is named after Latin "rutilas" - golden red, alluding to its common colour, especially in transmitted light.
Golden-coloured rutile typically occurs in a slender acicular form. The small needles of rutile found in gems cause an optical phenomenon known as asterism. Asterated gems are known as "star" gems (Star sapphire, Star rubies, etc.).
Rutile has high refractive index and strong dispersion, it gives an adamantine lustre and a diamond-like appearance to its crystals.
Rutile crystals frequently form as elbow or cyclic twins.
General Information
Chemical Formula

Gems, Sixth Edition

(2006)

,
Photos of natural/un-cut material from mindat.org
Rutile Treatments

Pale yellow, synthetic rutile may be turned an attractive blue color by heating at over 1000°C in a reducing atmosphere. Heating at 1000°C in oxygen reverses this change (Nassau, 1980) - Nassau (1984)

Synthetic Rutile

Synthetic rutile: Colourless, yellowish, Transparent; Hardness 6 - 6.5; RI 2.616 - 2.903; Birefringence 0.287; Uniaxial/+; SG 4.26; Inclusions: occasionally gas bubbles - Gemmological Tables, Ulrich Henn and Claudio C. Milisenda, 2004, p 31

Physical Properties of Rutile
Mohs Hardness

6 to 6.5

Blue Chart Gem Identification

(2010)

, More from other references
Specific Gravity

4.20 to 4.30

Blue Chart Gem Identification

(2010)

, More from other references
Cleavage Quality

Distinct

Gemmological Tables

(2004)

,
Fracture

Sub-Conchoidal

Gemstones

(2009)

,
Optical Properties of Rutile
Refractive Index

2.609 to 2.903

Blue Chart Gem Identification

(2010)

, More from other references
Optical Character

Uniaxial/+

Blue Chart Gem Identification

(2010)

, More from other references
Birefringence

0.287

Blue Chart Gem Identification

(2010)

, More from other references
Pleochroism

Strong

Gemstones

(2009)

,
Dispersion

Very high

Blue Chart Gem Identification

(2010)

, More from other references
Chatoyancy

Yes, star 4

Blue Chart Gem Identification

(2010)

,
Colour
Colour (General)

(Dark) yellowish brown, reddish brown, black

Blue Chart Gem Identification

(2010)

, More from other references
Causes of Colour
Blue (synthetic rutile), Band transition due to the presence of Ti3+

Pragmatic Spectroscopy For Gemologists

(2011)

,
Transparency

Transparent,Translucent,Opaque

Gemmological Tables

(2004)

,
Lustre

Adamantine,Metallic

Gems, Sixth Edition

(2006)

,
Fluorescence & other light emissions
Fluorescence (General)

Inert

Blue Chart Gem Identification

(2010)

,
Crystallography of Rutile
Crystal System

Tetragonal

Blue Chart Gem Identification

(2010)

, More from other references
Habit

slender prismatic striated lengthways, variably terminated and often geniculate twinned crystals

Gems, Sixth Edition

(2006)

,
Geological Environment
Where found:

Rutile occurs as a common high-temperature, highpressure accessory mineral in igneous rocks and granite pegmatites and in regionally metamorphosed rocks including crystalline limestones. Rutile needles are common inclusions in a number of gem minerals.

Gems, Sixth Edition

(2006)

,
Further Information
Mineral information:
Rutile information at mindat.org
Significant Gem Localities

Brazil

Gems, Sixth Edition, Michael O'Donoghue, 2006, p. 445

Kyrgyzstan

Myanmar

Ted Themelis (2008) Gems & mines of Mogok
Ted Themelis (2008) Gems & mines of Mogok

Russia

Sri Lanka