Scheelite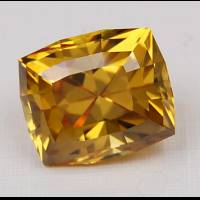 China
17.85 carats
© Rarestone.com
Scheelite was named after Swedish chemist K.W. Scheele, who discovered tungsten.
Well-formed crystals are fashioned into gemstones. They have high lustre and appreciable "fire", approaching that of
Diamond
. Gems cut from transparent material are fragile.
A magnificent gem weighing 58 carats was faceted from transparent orange material found in the Gamsberg area in Namibia.
General Information
Chemical Formula

Gems, Sixth Edition

(2006)

, More from other references
Significant stones
Photos of natural/un-cut material from mindat.org
Synthetic Scheelite

Synthetic scheelite - Colours: red, red-brown, yellow-brown, yellow, green, violet, colourless; Transparent; Hardness 4.5 - 5; Cleavage - distinct; RI 1.918 - 1.934; Birefringence 0.016; Uniaxial/+; SG 5.90 - 6.10; Fluorescence: LW red to orange-red; SW pink, blue or bluish-white - Gemmological Tables, Ulrich Henn and Claudio C. Milisenda, 2004, p 29

Physical Properties of Scheelite
Mohs Hardness

4.5 to 5

Blue Chart Gem Identification

(2010)

, More from other references
Specific Gravity

5.9 to 6.3

Gemstones of the world

(2001)

, More from other references
Tenacity

Brittle

Gemstones

(2009)

,
Cleavage Quality

Good

Gemstones of the world

(2001)

, More from other references
Fracture

Conchoidal,Splintery

Gemstones of the world

(2001)

, More from other references
Optical Properties of Scheelite
Refractive Index

1.918 to 1.936

Blue Chart Gem Identification

(2010)

, More from other references
Optical Character

Uniaxial/+

Blue Chart Gem Identification

(2010)

, More from other references
Birefringence

0.010 to 0.018

Blue Chart Gem Identification

(2010)

, More from other references
Pleochroism

Variable

Gemstones of the world

(2001)

, More from other references
Dispersion

0.038

Gems, Sixth Edition

(2006)

, More from other references
Colour
Colour (General)

Colourless, yellow, yellowish-white, gray, orange, brown

Gemmological Tables

(2004)

, More from other references
Causes of Colour

Yellow, Fe

Pragmatic Spectroscopy For Gemologists

(2011)

,
Transparency

Transparent

Gemmological Tables

(2004)

, More from other references
Lustre

Adamantine

Gems, Sixth Edition

(2006)

, More from other references
Fluorescence & other light emissions
Fluorescence (General)

Strong; light blue

Gemstones of the world

(2001)

,
Fluorescence (Short Wave UV)

Strong light to medium blue (also yellow. Synthetic: pink to (chalky)-blue

Blue Chart Gem Identification

(2010)

, More from other references
Fluorescence (Long-Wave UV)

Inert. Synthetic: strong (orangy)-red

Blue Chart Gem Identification

(2010)

,
Crystallography of Scheelite
Crystal System

Tetragonal

Blue Chart Gem Identification

(2010)

, More from other references
Habit

Pseudooctahedral crystals

Gems, Sixth Edition

(2006)

, More from other references
Geological Environment
Where found:

Scheelite occurs in contact metamorphic deposits, hydrothermal veins or pegmatites.

Gems, Sixth Edition

(2006)

,
Further Information
Mineral information:
Scheelite information at mindat.org
Significant Gem Localities

Myanmar

Ted Themelis (2008) Gems & mines of Mogok
Ted Themelis (2008) Gems & mines of Mogok

Peru

South Korea

North Chungcheong Province

Neungam-ri (Neung Am-ri; Noungam-ri)

Gems, Sixth Edition, Michael O'Donoghue, 2006, p. 447

Sri Lanka

No reference listed

Sweden

Gems, Sixth Edition, Michael O'Donoghue, 2006, p. 447