Staurolite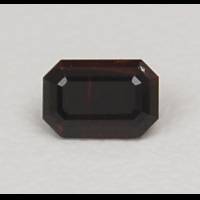 Brazil
0.72 carats
© Rarestone.com
Staurolite is named from Greek "stauros" - a cross, alluding to the cruciform twins (fairy crosses) it displays in some cases.
Staurolite forms characteristic monoclinic, pseudo-orthorhombic prismatic, reddish brown crystals, often forming 60° twins. The crystals are mostly translucent, rarely transparent. Staurolite shows distinct pleochroism - colourless - yellow - reddish brown.
Rouch material to facet brilliant gems is very rare.
General Information
Chemical Formula

Gemmological Tables

(2004)

, More from other references
Photos of natural/un-cut material from mindat.org
Physical Properties of Staurolite
Mohs Hardness

7 to 7.5

Blue Chart Gem Identification

(2010)

, More from other references
Specific Gravity

3.7 to 3.8

Gemstones of the world

(2001)

, More from other references
Cleavage Quality

Distinct

Gemmological Tables

(2004)

, More from other references
Fracture

Sub-Conchoidal

Gemstones

(2009)

,
Optical Properties of Staurolite
Refractive Index

1.736 to 1.762

Blue Chart Gem Identification

(2010)

, More from other references
Optical Character

Biaxial/+

Blue Chart Gem Identification

(2010)

, More from other references
Birefringence

0.010 to 0.015

Blue Chart Gem Identification

(2010)

, More from other references
Pleochroism

Distinct: light yellow - yellowish red - dark red

Blue Chart Gem Identification

(2010)

, More from other references
Dispersion

Nil

Gemstones

(2009)

,
Colour
Colour (General)

Reddish-brown, black.

Gemstones of the world

(2001)

, More from other references
Causes of Colour
Brown, Fe2+ in tetrahedral coordination. Blue, Co2+ in tetrahedral coordination

Pragmatic Spectroscopy For Gemologists

(2011)

,
Transparency

Transparent

Blue Chart Gem Identification

(2010)

, More from other references
Lustre

Vitreous

Gemstones of the world

(2001)

, More from other references
Crystallography of Staurolite
Crystal System

Monoclinic

Gemstones of the world

(2001)

, More from other references
Habit

Pseudo-orthorhombic prismatic

Gems, Sixth Edition

(2006)

, More from other references
Geological Environment
Where found:

Staurolite occurs most commonly in schists and gneisses.

Gems, Sixth Edition

(2006)

,
Further Information
Mineral information:
Staurolite information at mindat.org
Significant Gem Localities

Brazil

Gems, Sixth Edition, Michael O'Donoghue, 2006, p. 455

Sri Lanka

Switzerland

Gems, Sixth Edition, Michael O'Donoghue, 2006, p. 455