Sugilite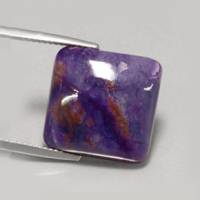 Australia
15.15 carats
© gemselect.com
Sugilite is named after Ken-ichi Sugi, Japanese petrologist who first discovered the mineral on Iwagi island, Shikoku, Japan in 1994.
Sugilite most commonly forms compact masses with a light brownish yellow to a bright magenta colour. The material yields attractive cabochons, beads, ornamental objects. Semi-transparent stones are occasionally faceted. Crystal specimens are very rare.
Sugilite is also known as Wesselite, because translucent facetable material of intense purple colour was found in the Wessels Manganese Mine near Hotazel, South Africa.
The name Cybelene has also been used for Sugilite.
General Information
Other Names/Trade Names:
Chemical Formula

Gems, Sixth Edition

(2006)

, More from other references
Photos of natural/un-cut material from mindat.org
Sugilite Treatments

It has been noted by J.Call (unpublished observation) that dark purple sugilite can be lightened by heating at about 450°C; the product may have a banded appearance - Nassau (1984)

Sugilite Simulants

May be mixed with chalcedony - Blue Chart Gem Identification, Herve Nicolas Lazzarelli, 2010, p 5

Physical Properties of Sugilite
Mohs Hardness

5.5 to 6.5

Blue Chart Gem Identification

(2010)

, More from other references
Specific Gravity

2.69 to 2.79

Blue Chart Gem Identification

(2010)

, More from other references
Cleavage Quality

Poor

Gemstones

(2009)

,
Fracture

Sub-Conchoidal

Gemstones

(2009)

,
Optical Properties of Sugilite
Refractive Index

1.607 to 1.612

Blue Chart Gem Identification

(2010)

, More from other references
Optical Character

Uniaxial/-

Gemmological Tables

(2004)

, More from other references
Birefringence

0.003 to 0.005

Gems, Sixth Edition

(2006)

, More from other references
Pleochroism

Weak

Handbook of mineralogy

(2001)

,
Colour
Colour (General)

Violet, purple-red

Gemmological Tables

(2004)

, More from other references
Causes of Colour
Purple, Mn3+ and Fe3+ presumably in octahedral coordination

Pragmatic Spectroscopy For Gemologists

(2011)

,
Transparency

Translucent,Opaque

Blue Chart Gem Identification

(2010)

, More from other references
Lustre

Resinous

Gemstones of the world

(2001)

, More from other references
Crystallography of Sugilite
Crystal System

Hexagonal

Blue Chart Gem Identification

(2010)

, More from other references
Habit

Massive

Gems, Sixth Edition

(2006)

, More from other references
Geological Environment
Where found:

Sugilite occurs in an aegirine-bearing syenite stock in biotite granite in bedded manganese deposits.

Gems, Sixth Edition

(2006)

, More from other references
Further Information
Mineral information:
Sugilite information at mindat.org
Significant Gem Localities

South Africa

Gems, Sixth Edition, Michael O'Donoghue, 2006, p. 457
Gems, Sixth Edition, Michael O'Donoghue, 2006, p. 457
Gems, Sixth Edition, Michael O'Donoghue, 2006, p. 457