Tanzanite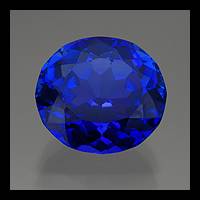 Tanzania
9.90 carats
© Palagems
Tanzanite is called after the East African state of Tanzania, it was discovered in the Mererani Hills of Northern Tanzania in 1967.
Tanzanite is the blue-purple variety of
Zoisite
, it is noted for its remarkably strong trichroism, appearing sapphire blue, violet and burgundy depending on the position of crystal. Tanzanite also appears differently when viewed under alternate lighting conditions. In good quality the colour is ultramarine to sapphire blue; in artificial light, it appears more amethyst violet.
Tanzanite is universally heat treated to produce a range of hues between bluish-violet to violetish-blue, it has no effect on price.
General Information
A variety or type of:
Zoisite
Chemical Formula

Gemstones of the world

(2001)

, More from other references
Photos of natural/un-cut material from mindat.org
Tanzanite Treatments
When heated to 752 - 932 degrees F (400 - 500 degrees C), the interfering yellowish and brown tints vanish, and the blue becomes deeper. - Gemstones of the world, Walter Schumann, 2001, p 160
Heat-treatment of tanzanite gives violetish-blue colour, which is permanent and stable under normal conditions. There are no comparable untreated materials. - GIA
Tanzanite Simulants
There are glass imitations and doublets made from glass with tanzanite crown or made from two colourless synthetic spinels glued with tanzanite-coloured glue. - Gemstones of the world, Walter Schumann, 2001, p 160

Synthetic Forsterite, coranite - synthetic blue corundum, tanavyte - purple YAG, glass. - GIA 2019
Physical Properties of Tanzanite
Mohs Hardness

6.5 to 7

Gemstones of the world

(2001)

, More from other references
Specific Gravity

3.35

Gemstones of the world

(2001)

, More from other references
Tenacity

Brittle

Gems, Sixth Edition

(2006)

,
Cleavage Quality

Perfect

Gemstones of the world

(2001)

,
Fracture

Uneven

Gemstones of the world

(2001)

,
Optical Properties of Tanzanite
Refractive Index

1.685 to 1.707

Blue Chart Gem Identification

(2010)

, More from other references
Optical Character

Biaxial/+

Blue Chart Gem Identification

(2010)

, More from other references
Birefringence

0.006 to 0.013

Blue Chart Gem Identification

(2010)

, More from other references
Pleochroism

Violet/purple stones - strong trichroism: strong blue - purple - greenish (to brownish) yellow; Blue stones - strong: strong blue - purple - greenish-yellow

Blue Chart Gem Identification

(2010)

, More from other references
Dispersion

0.030

Gemstones of the world

(2001)

,
Chatoyancy

Yes

Gemmological Tables

(2004)

,
Colour
Colour (General)

Sapphire blue, amethyst, violet

Gemstones of the world

(2001)

, More from other references
Causes of Colour
Blue, (heat treated), V4+ in octahedral coordination; with V3+ in octahedral coordination. Brown-violet, V3+ in octahedral coordination (treatment turns blue). Green, Cr3+ in octahedral coordination.

Pragmatic Spectroscopy For Gemologists

(2011)

,
Transparency

Transparent

Gemmological Tables

(2004)

, More from other references
Fluorescence & other light emissions
Fluorescence (General)

Inert

Blue Chart Gem Identification

(2010)

,
Fluorescence (Long-Wave UV)

Rare bluish

Blue Chart Gem Identification

(2010)

,
Crystallography of Tanzanite
Crystal System

Orthorhombic

Blue Chart Gem Identification

(2010)

,
Habit

Multifaced prisms, mostly striated

Gemstones of the world

(2001)

,
Geological Environment
Where found:
Tanzanite occurs in calcareous rocks,
including metamorphosed dolomite and calcareous shales subjected to regional metamorphism.

Gems, Sixth Edition

(2006)

,
Further Information
Mineral information:
Tanzanite information at mindat.org
Significant Gem Localities

Tanzania

Malisa (2003)
Malisa (2003)
Malisa (2003)
Malisa (2003)
Malisa (2003)
Malisa (2003)