Willemite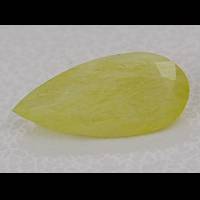 Franklin, Franklin Mining District, Sussex County, New Jersey, USA
2.23 carats
© Rarestone.com
Willemite was discovered in 1830 and named after William I, King of the Netherlands.
Willemite is famous for its remarkable luminescent properties. It exhibits strong green fluorescence under short-wave ultraviolet light. Some specimens may exhibit phosphorescence, they continue to glow for some time even after the UV source is removed.
Gem quality crystals are usually small and rarely exceed two grams, but can be faceted into attractive gems.
General Information
Chemical Formula

Gems, Sixth Edition

(2006)

, More from other references
Photos of natural/un-cut material from mindat.org
Physical Properties of Willemite
Mohs Hardness

5.5

Blue Chart Gem Identification

(2010)

, More from other references
Specific Gravity

3.89 to 4.18

Blue Chart Gem Identification

(2010)

, More from other references
Cleavage Quality

Distinct

Gemstones

(2009)

,
Fracture

Sub-Conchoidal

Gemstones

(2009)

,
Optical Properties of Willemite
Refractive Index

1.687 to 1.723

Blue Chart Gem Identification

(2010)

, More from other references
Optical Character

Uniaxial/+

Blue Chart Gem Identification

(2010)

, More from other references
Birefringence

0.028 to 0.030

Blue Chart Gem Identification

(2010)

, More from other references
Pleochroism

Nil

Gemstones

(2009)

,
Dispersion

Low

Gemstones

(2009)

,
Chatoyancy

Rare

Blue Chart Gem Identification

(2010)

,
Colour
Colour (General)

Colourless, yellow, greenish-yellow, yellow-green, orange, brown, red, blue

Gemmological Tables

(2004)

, More from other references
Causes of Colour
Yellow, Mn2+ in tetrahedral coordination

Pragmatic Spectroscopy For Gemologists

(2011)

,
Transparency

Transparent,Translucent,Opaque

Gemmological Tables

(2004)

, More from other references
Lustre

Resinous

Blue Chart Gem Identification

(2010)

, More from other references
Fluorescence & other light emissions
Fluorescence (General)

Weak to strong green-(yellow), common phosphorescence

Blue Chart Gem Identification

(2010)

,
Fluorescence (Short Wave UV)

Shows an intense green fluorescence – some specimens may also show green phosphorescence

Gems, Sixth Edition

(2006)

,
Crystallography of Willemite
Crystal System

Trigonal

Blue Chart Gem Identification

(2010)

, More from other references
Habit

Prismatic, massive

Gems, Sixth Edition

(2006)

, More from other references
Geological Environment
Where found:

Willemite occurs in zinc deposits in limestones and is an uncommon ore of zinc.

Gems, Sixth Edition

(2006)

, More from other references
Further Information
Mineral information:
Willemite information at mindat.org
Significant Gem Localities

Canada

La Vallée-du-Richelieu RCM

Namibia

[MinRec 12:45, 8:Tsumeb 34/50/67]

USA