Cymophane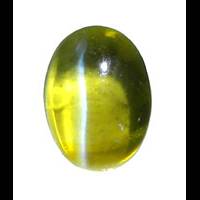 Brazil
1.39 carats
© Mineral Classics
Cymophane has its derivation also from the Greek words meaning 'wave' and 'appearance', in reference to the exhibited chatoyancy. It is the only gem which is simply known as Cat's eye.
Chatoyancy is caused by light reflecting from inclusions of tiny parallel needles or hollow tubes. The finest quality cat's eye should be sharp, intense, well-centered, correctly oriented. Silver-white colour band is preferred. Most-prized bodycolor is semi-transparent golden-yellow to slightly greenish-yellow or brownish yellow "honey" color.
Cat's eye chrysoberyl can exhibit "Opening and Closing" and "Milk and Honey" effects.
General Information
A variety or type of:
Chrysoberyl
Chemical Formula

Gemstones

(2009)

,
Cymophane Treatments

Irradiation of light variety produces dark (olive)-brown color: may be radioactive. - Blue Chart Gem Identification, Herve Nicolas Lazzarelli, 2010, p 3

Cymophane Simulants

Cat's eye quartz, cat's eye tourmaline, bleached tiger's eye quartz, glass. - GIA 2019

Synthetic Cymophane

In 1987 Japan's Kyocera Corporation created commercially-available synthetic cat's eye color-change alexandrite, which is a rare combination. - GIA 2019

Physical Properties of Cymophane
Mohs Hardness

8.5

Blue Chart Gem Identification

(2010)

,
Specific Gravity

3.69 to 3.81

Blue Chart Gem Identification

(2010)

,
Optical Properties of Cymophane
Refractive Index

1.739 to 1.770+

Blue Chart Gem Identification

(2010)

,
Optical Character

Biaxial/+,-

Blue Chart Gem Identification

(2010)

,
Birefringence

0.007 to 0.013

Blue Chart Gem Identification

(2010)

,
Chatoyancy

Bluish (or yellowish according to other sources) chatoyancy

Management Team

(2012)

,
Colour
Colour (General)

Yellow, green

Blue Chart Gem Identification

(2010)

,
Transparency

Transparent,Translucent

Gems, Sixth Edition

(2006)

,
Lustre

Vitreous

Gems, Sixth Edition

(2006)

,
Crystallography of Cymophane
Crystal System

Orthorhombic

Blue Chart Gem Identification

(2010)

,
Inclusions in Cymophane

Microscopic tube-like cavities or needle-like inclusions of rutile in an orientation parallel to the c-axis - mindat.org

Further Information
Mineral information:
Cymophane information at mindat.org
Significant Gem Localities

Sri Lanka