Obsidian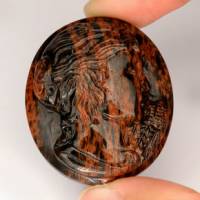 Mahogany Obsidian
Indonesia
69.01 carats
© gemselect.com
Obsidian was so named from its resemblance to a stone found in Ethiopia by Obsius. It was used in antiquity for amulets and necklaces.
Obsidian is a naturally occurring volcanic glass. It is usually an opaque black or grey but may be yellow, red, greenish brown. Obsidian may have an iridescent sheen caused by inclusions.
Obsidian is used for ornamental purposes and as a gemstone.
Many colored glasses are sold as "obsidian" often claiming to be natural.
General Information
A variety or type of:
Glass
Varieties/Types:
Photos of natural/un-cut material from mindat.org
Obsidian Simulants

Many. colored glasses are sold as "obsidian" especially, often flawless and brightly colored. These are obvious inexpensive fakes.

Physical Properties of Obsidian
Mohs Hardness

5 to 5.5

Blue Chart Gem Identification

(2010)

, More from other references
Specific Gravity

2.35 to 2.60

Gemstones of the world

(2001)

, More from other references
Cleavage Quality

None

Gemstones of the world

(2001)

,
Fracture

Conchoidal

Gemstones of the world

(2001)

, More from other references
Optical Properties of Obsidian
Refractive Index

1.450 to 1.550

Blue Chart Gem Identification

(2010)

, More from other references
Optical Character

Isotropic

Gemstones

(2009)

,
Birefringence

None

Gemstones of the world

(2001)

,
Pleochroism

Absent

Gemstones of the world

(2001)

,
Dispersion

0.010

Gemstones of the world

(2001)

,
Colour
Colour (General)
Black, brown, partly iridescent or with silvery or golden sheen (opaque)
Brown, green, red (transparent)

Gemmological Tables

(2004)

, More from other references
Transparency

Transparent,Translucent,Opaque

Gemmological Tables

(2004)

, More from other references
Lustre

Vitreous

Gemstones

(2009)

,
Fluorescence & other light emissions
Fluorescence (General)

None

Gemstones of the world

(2001)

,
Crystallography of Obsidian
Crystal System

Amorphous

Blue Chart Gem Identification

(2010)

, More from other references
Habit

Massive

Gemstones

(2009)

,
Geological Environment
Where found:

Occurs when volcanic lava is subjected to rapid heat loss.

Gemstones

(2009)

,
Inclusions in Obsidian
Torpedo shaped gas bubbles, needle-like inclusions, smooth undulating growth structure - Blue Chart Gem Identification, Herve Nicolas Lazzarelli, 2010, p 8

Gas bubbles, swirl marks, crystal inclusions, white spherolites ("snow flake obsidian") - Gemmological Tables, Ulrich Henn and Claudio C. Milisenda, 2004, p 2
Further Information
Mineral information:
Obsidian information at mindat.org
Significant Gem Localities