Alexandrite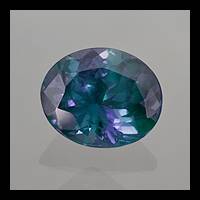 India
2.00 carats
© Palagems
Alexandrite is a variety of
Chrysoberyl
. It was named after Czar Alexander II.
It displays a color change (alexandrite effect) dependent upon the nature of ambient lighting. It is vivid grass green in daylight or fluorescent light, and intense raspberry red in artificial incandescent light. To accentuate this peculiar character the stone must be cut of a certain thickness, the difference in colour being much less marked in a stone cut with little depth.
Until comparatively recent times alexandrite was found only in Russia, in the emerald mines on the right bank of the Takovaya, a small stream east of Ekaterinburg in the Urals. Today these mines produce very little and Sri Lanka becomes the major source for the material.
General Information
A variety or type of:
Chrysoberyl
Photos of natural/un-cut material from mindat.org
Alexandrite Simulants
Synthetic color-change corundum and synthetic color-change spinel are commonly used as imitations.
Assembled stone consisting of 2 layers of rock crystal and a layer of dyed filler. - GIA 2019
Synthetic Alexandrite

Synthetic alexandrite: Colour change - daylight: green to blue-green; incandescent light: red to violet-red. Transparent; Hardness 8.5; RI 1.740 - 1.756; Birefringence 0.007 - 0.010; Biaxial/+; SG 3.70 - 3.72; Pleochroism: red/orange-yellow/green; Inclusions: Flux method: flux and crucible (platinum) residues; Pulling method: slightly curved growth lines, black bubble-like inclusions; Hydrothermal method: swirl-like growth inhomogeneties, dark bubble-like residues, flat liquid inclusions; Fluorescence: SW and LW red - Gemmological Tables, Ulrich Henn and Claudio C. Milisenda, 2004, p 25

Physical Properties of Alexandrite
Mohs Hardness

8.5

Blue Chart Gem Identification

(2010)

,
Specific Gravity

3.69 to 3.81

Blue Chart Gem Identification

(2010)

,
Optical Properties of Alexandrite
Refractive Index

1.739 to 1.770+

Blue Chart Gem Identification

(2010)

,
Optical Character

Biaxial/+,-

Blue Chart Gem Identification

(2010)

,
Birefringence

0.007 to 0.013

Blue Chart Gem Identification

(2010)

,
Pleochroism

Red stones - strong trichroism: dark red - orange - dark green; Green stones - strong: dark green - orange - dark red

Blue Chart Gem Identification

(2010)

,
Colour
Colour (Daylight)

Green

Blue Chart Gem Identification

(2010)

, More from other references
Colour (Incandescent Light)

Red

Blue Chart Gem Identification

(2010)

, More from other references
Colour (Chelsea Filter)

Red

Blue Chart Gem Identification

(2010)

,
Causes of Colour
Color-change, Cr3+ in octahedral coordination

Pragmatic Spectroscopy For Gemologists

(2011)

,
Transparency

Transparent,Translucent

Gemstones of the world

(2001)

,
Fluorescence & other light emissions
Fluorescence (General)

Weak red, synthetic: common stronger reactions

Blue Chart Gem Identification

(2010)

,
Crystallography of Alexandrite
Crystal System

Orthorhombic

Blue Chart Gem Identification

(2010)

,
Inclusions in Alexandrite

Mica platelets, apatite, rutile, healing cracks, multi-phase inclusions, hollow tubes - Gemmological Tables, Ulrich Henn and Claudio C. Milisenda, 2004, p 25

Further Information
Mineral information:
Alexandrite information at mindat.org
Significant Gem Localities

Australia

Groat, L.A., Giuliani, G., Marshall, D.D., and Turner, D. (2008): Ore Geology Reviews 34, 87-112.
MinMag 66(6):985-1002

Brazil

Pinto and Pedrosa-Soares (2001)
Petersen et al. (2002)
; Emeralds of the World English extraLapis Vol. 2 2002 pp46-51
Cassedanne and Roditi (1993)

Czech Republic

Jablonec nad Nisou District

geological prospecting, 2008 - 2009, Czech geological Organization

India

Michelou (2006)

Madagascar

Giuliani, G., Fallick, A., Rakotondrazafy, M., Ohnenstetter, D., Andriamamonjy, A., Ralantoarison, T., Rakotosamizanany, S., Razanatseheno, M., Offant, Y., Garnier, V., Dunaigre, C., Schwarz, D., Mercier, A., Ratrimo, V., and Ralison, B. (2007): Mineralium Deposita 42, 251-270.

Myanmar

Themelis, Ted, 2008, Gems and Mines of Mogok.
Themelis, Ted, 2008, Gems and Mines of Mogok.
Themelis, Ted, 2008, Gems and Mines of Mogok.

Russia

Hochleitner (2005)
Hochleitner (2005)

Sri Lanka

Gemexplorer.org
Econ Geol (1981) 76:733-738

Tanzania

Emeralds of the World English extraLapis Vol. 2 2002 pp24-35
http://www.ganoksin.com/borisat/nenam/tanzania-mines.htm
Milisenda et al. (1997)

USA

Northrop, Minerals of New Mexico, 3rd rev. Ed., 1996

Zimbabwe

J. E. Shigley et al. (2010), Gem Localities of the 2000s, Gems and Gemology, Fall 2010, pp. 188–216
[www.johnbetts-fineminerals.com]