Anatase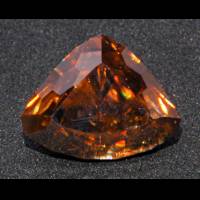 Brazil
6.25 carats
© Rarestone.com
Anatase is named after Greek "anatasis" - extension, alluding to the greater length of the common pyramid as compared to other tetragonal minerals.
Anatase is polymorphous with
rutile
and
brookite
. It is very similar to
rutile
in lustre, hardness and density, but differs in its crystal habit and cleavage. When exposed to high temperature anatase transforms into
rutile
.
Rare transparent specimens are faceted into brilliant gems.
General Information
Other Names/Trade Names:
Chemical Formula

Gems, Sixth edition

(2006)

, More from other references
Photos of natural/un-cut material from mindat.org
Physical Properties of Anatase
Mohs Hardness

5.5 to 6

Blue Chart Gem Identification

(2010)

, More from other references
Specific Gravity

3.82 to 3.97

Blue Chart Gem Identification

(2010)

, More from other references
Cleavage Quality

Perfect

Gemstones

(2009)

,
Fracture

Sub-Conchoidal

Gemstones

(2009)

,
Heat Sensitivity

Sensitive

Gemstones

(2009)

,
Optical Properties of Anatase
Refractive Index

2.488 to 2.562

Blue Chart Gem Identification

(2010)

, More from other references
Optical Character

Uniaxial/-

Blue Chart Gem Identification

(2010)

, More from other references
Birefringence

0.073

Blue Chart Gem Identification

(2010)

, More from other references
Pleochroism

Orange/brown stones - distinct: yellow - orange

Blue Chart Gem Identification

(2010)

,
Dispersion

Ord - 0.213 to Ext - 0.259

Gemstones

(2009)

,
Colour
Colour (General)

Dark brown, colourless, yellow, blue, reddish, black.

Gemstones of the world

(2001)

, More from other references
Transparency

Transparent,Translucent

Blue Chart Gem Identification

(2010)

, More from other references
Lustre

Adamantine

Gemstones of the world

(2001)

, More from other references
Fluorescence & other light emissions
Fluorescence (General)

Inert

Blue Chart Gem Identification

(2010)

,
Crystallography of Anatase
Crystal System

Tetragonal

Blue Chart Gem Identification

(2010)

, More from other references
Habit

Usually as bipyramids

Gems, Sixth edition

(2006)

, More from other references
Geological Environment
Where found:

Anatase results from the alteration of other titanium-bearing minerals and is also found in hydrothermal veins.

Gems, Sixth edition

(2006)

,
Further Information
Mineral information:
Anatase information at mindat.org
Significant Gem Localities

Myanmar

Ted Themelis (2008) Gems & mines of Mogok