Kornerupine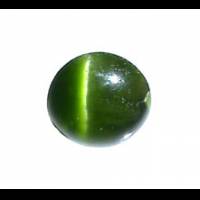 India
1.20 carats
© Mineral Classics
Kornerupine was named after a Danish geologist and explorer A. N. Kornerup.
The colour can vary from brown, green to shades of yellow, the material is strongly pleochroic and frequently asteriated (from Burma and Taita Hills, Kenya). Cat's eye effect is due to inclusions of
rutile
and
graphite
.
Kornerupine can be faceted or cut into cabochons. Cut stones are up to 20 carats (usually to 3 carats).
General Information
Chemical Formula

Gemstones of the world

(2001)

, More from other references
Photos of natural/un-cut material from mindat.org
Physical Properties of Kornerupine
Mohs Hardness

6.5

Blue Chart Gem Identification

(2010)

, More from other references
Specific Gravity

3.25 to 3.45

Blue Chart Gem Identification

(2010)

, More from other references
Cleavage Quality

Good

Gemstones of the world

(2001)

, More from other references
Fracture

Conchoidal

Gemstones

(2009)

,
Optical Properties of Kornerupine
Refractive Index

1.660 to 1.685

Blue Chart Gem Identification

(2010)

, More from other references
Optical Character

Biaxial/-

Blue Chart Gem Identification

(2010)

, More from other references
Birefringence

0.012 to 0.017

Blue Chart Gem Identification

(2010)

, More from other references
Pleochroism

Strong trichroism is common for green variety: green - yellow - reddish brown

Blue Chart Gem Identification

(2010)

, More from other references
Dispersion

0.018

Gemstones

(2009)

,
Chatoyancy

Rare star 4

Blue Chart Gem Identification

(2010)

,
Colour
Colour (General)

Green, blue-green, brownish-green, greenish-brown

Gemmological Tables

(2004)

, More from other references
Causes of Colour
Blue, Cr3+ in octahedral coordination. Green, V3+ in octahedral coordination

Pragmatic Spectroscopy For Gemologists

(2011)

,
Transparency

Transparent

Gemmological Tables

(2004)

, More from other references
Lustre

Vitreous

Gemstones

(2009)

,
Fluorescence & other light emissions
Fluorescence (General)

Usually none; green kornerupine from Kenya: yellow

Gemstones of the world

(2001)

, More from other references
Crystallography of Kornerupine
Crystal System

Orthorhombic

Blue Chart Gem Identification

(2010)

, More from other references
Habit

Prismatic

Gems, Sixth Edition

(2006)

, More from other references
Geological Environment
Where found:

Occurs in boron-rich volcanic and sedimentary rocks subjected to metamorphism

Gems, Sixth Edition

(2006)

,
Inclusions in Kornerupine
Common needle-like inclusions: sharp cat's eye (grayish, greenish, black)- Blue Chart Gem Identification, Herve Nicolas Lazzarelli, 2010, p 4
Needle-like crystals, zircons with tension cracks - Gemmological Tables, Ulrich Henn and Claudio C. Milisenda, 2004, p 19
Further Information
Mineral information:
Kornerupine information at mindat.org
Significant Gem Localities

Australia

Harts Range (Harts Ranges; Hartz Range; Hartz Ranges)

Greenland

Kenya

Gems, Sixth Edition, Michael O'Donoghue, 2006, p. 421
Collection of NHM, Vienna

Madagascar

Gems, Sixth Edition, Michael O'Donoghue, 2006, p. 421

Myanmar

Ted Themelis (2008) Gems & mines of Mogok
Gems, Sixth Edition, Michael O'Donoghue, 2006, p. 421

Pein-Pyit (Painpyit; Pyan Pyit)

Ted Themelis (2008) Gems & mines of Mogok

Sri Lanka