Sillimanite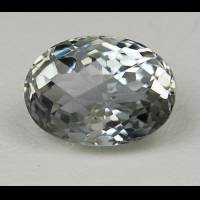 India
6.13 carats
© Rarestone.com
Sillimanite is named after Benjamin Silliman, Professor of Chemistry and Geology, Yale University, New Haven, Connecticut, USA.
Sillimanite forms transparent, rather slate-blue or blue-green slender poorly terminated prismatic crystals, and some material is fibrous.
Violet–blue stones have been reported from Mogok Stone Tract, Myanmar and greyish green chatoyant material is found in the Sri Lanka gem gravels.
Sillimanite is one of the most difficult gemstones to fashion.
General Information
Varieties/Types:
Chemical Formula

Gems, Sixth Edition

(2006)

,
Photos of natural/un-cut material from mindat.org
Physical Properties of Sillimanite
Mohs Hardness

6 to 7.5

Blue Chart Gem Identification

(2010)

, More from other references
Specific Gravity

3.20 to 3.26

Blue Chart Gem Identification

(2010)

, More from other references
Cleavage Quality

Perfect

Gemmological Tables

(2004)

, More from other references
Optical Properties of Sillimanite
Refractive Index

1.653 to 1.685

Blue Chart Gem Identification

(2010)

, More from other references
Optical Character

Biaxial/+

Blue Chart Gem Identification

(2010)

, More from other references
Birefringence

0.014 to 0.021

Blue Chart Gem Identification

(2010)

, More from other references
Pleochroism

Strong trichroism is common for green stones: yellowish green - dark green - blue

Blue Chart Gem Identification

(2010)

, More from other references
Chatoyancy

Common grayish green to dark brown cat's eye due to grayish hypersthene's fibers (or rutile needles)

Blue Chart Gem Identification

(2010)

,
Colour
Colour (General)

Colourless, blue-green, blue, green, gray-green, brownish

Gemmological Tables

(2004)

, More from other references
Causes of Colour
Blue, Fe2+-O-Ti4+, charge transfer, probably similar to blue kyanite. Yellow, Fe3+ or Cr3+ in tetrahedral coordination. Brown, Fe features of yellow sillimanite plus inclusions of iron rich phase

Pragmatic Spectroscopy For Gemologists

(2011)

,
Transparency

Transparent,Translucent,Opaque

Gemmological Tables

(2004)

, More from other references
Fluorescence & other light emissions
Fluorescence (General)

May fluoresce reddish

Blue Chart Gem Identification

(2010)

, More from other references
Crystallography of Sillimanite
Crystal System

Orthorhombic

Blue Chart Gem Identification

(2010)

, More from other references
Habit

Prismatic, some material is fibrous

Gems, Sixth Edition

(2006)

,
Geological Environment
Where found:

Sillimanite is found in high-grade metamorphic schists and gneisses, sometimes in pegmatites. Probably most gem sillimanite is found in gem gravels.

Gems, Sixth Edition

(2006)

,
Inclusions in Sillimanite
Hypersthene's fibers (or rutile needles)- Blue Chart Gem Identification, Herve Nicolas Lazzarelli, 2010, p 4

Oriented needle-like crystals - Gemmological Tables, Ulrich Henn and Claudio C. Milisenda, 2004, p 18
Further Information
Mineral information:
Sillimanite information at mindat.org
Significant Gem Localities

Myanmar

[var: Fibrolite] Ted Themelis (2008) Gems & mines of Mogok
Ted Themelis (2008) Gems & mines of Mogok

Pein-Pyit (Painpyit; Pyan Pyit)

[var: Fibrolite] Ted Themelis (2008) Gems & mines of Mogok
[var: Fibrolite] Ted Themelis (2008) Gems & mines of Mogok
[var: Fibrolite] Ted Themelis (2008) Gems & mines of Mogok

Sri Lanka

No reference listed
Gems, Sixth Edition, Michael O'Donoghue, 2006, p. 451