Heliodor (Golden Beryl)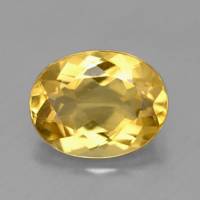 Brazil
1.65 carats
© gemselect.com
Heliodor is named after Greek "helios" - sun and "doron" - gift. It has a lemon to honey-yellow colour.
Heliodor and Golden Beryl are names given to the yellow varieties of
Beryl
. Many modern sources regard the two names as synonymous, although some sources state that the name Heliodor should be reserved for greenish-yellow
beryl
only, with the more golden coloured varieties being listed as Golden Beryl.
General Information
A variety or type of:
Beryl
Other Names/Trade Names:
Significant stones

| Image | Name | Weight | Country of Origin | Current Owner |
| --- | --- | --- | --- | --- |
| | Quarto Centario | 110,000.00 cts | Brazil | |

Photos of natural/un-cut material from mindat.org
Heliodor Treatments

Color may be improved by heat-treatment or be created by irradiation of colorless variety - Blue Chart Gem Identification, Herve Nicolas Lazzarelli, 2010, p 6

Physical Properties of Heliodor
Mohs Hardness

7.5 to 8

Blue Chart Gem Identification

(2010)

,
Specific Gravity

2.68 to 2.72

Blue Chart Gem Identification

(2010)

,
Tenacity

Brittle

Gemstones of the world

(2001)

,
Cleavage Quality

Indistinct

Gemstones of the world

(2001)

,
Fracture

Conchoidal

Gemstones of the world

(2001)

,
Optical Properties of Heliodor
Refractive Index

1.566 to 1.579

Blue Chart Gem Identification

(2010)

,
Optical Character

Uniaxial/-

Blue Chart Gem Identification

(2010)

,
Birefringence

0.005 to 0.009

Blue Chart Gem Identification

(2010)

, More from other references
Pleochroism

Weak: golden-yellow, green-yellow

Gemstones of the world

(2001)

,
Dispersion

0.014

Gemstones of the world

(2001)

,
Chatoyancy

Yes

Gemmological Tables

(2004)

,
Colour
Colour (General)

Lemon to golden yellow

Blue Chart Gem Identification

(2010)

, More from other references
Causes of Colour
The golden yellow color is attributed to Fe3+ ions.

Color in the Beryl group.

(2009)

Transparency

Transparent,Translucent,Opaque

Gemstones of the world

(2001)

,
Crystallography of Heliodor
Crystal System

Hexagonal

Blue Chart Gem Identification

(2010)

,
Habit

Hexagonal prisms

Gemstones of the world

(2001)

,
Inclusions in Heliodor

Planes of tiny 2 phase inclusions - Blue Chart Gem Identification, Herve Nicolas Lazzarelli, 2010, p 6

Further Information
Mineral information:
Heliodor information at mindat.org
Significant Gem Localities

Afghanistan

Glas (2002)

Brazil

Menezes (2005)
Cassedanne and Alves (1994)
Cassedanne and Alves (1994)
Kievlenko E.Ya., Geology of gems, 2003, p. 113

Pedra Azul pegmatite district

Cassedanne and Alves (1994)

Madagascar

Pezzotta (2001)
Laurs and Quinn (2002)
Madagascar, extraLapis English No.1, 2001, p. 50

Namibia

Glas (2002), Laurs (2002)

Klein Spitzkopje granite stock (Kleine Spitzkoppe; Klein Spitzkoppe)

Jahn (2000), Jahn and Bahmann (2000), Glas (2002), Laurs (2002)

Nigeria

J. Micheou (2009)

Russia

Emlin (1996)

Alabashka pegmatite field

Sri Lanka

Dissanayake et al. (2000)

Ukraine

Koivula et al. (1993), Lyckberg (2005)

USA

Jarnot (2005)
Sinkankas (1997)
Wise (2005)
Wise (2005)

Zimbabwe

Shmakin and Wedepohl (1999), Milisenda et al. (2000)
Milisenda et al. (2000), Cairncross (2005), Wise (2005)