Red Beryl (Bixbite)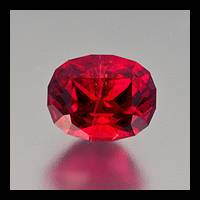 Utah, USA
2.74 carats
© Palagems
Red beryl - bixbite (also known as "red emerald", "scarlet emerald") is a red variety of
Beryl
. It was named after the mineralogist Maynard Bixby.
The colour is predominantly red of various tints: strawberry, bright ruby, cherry, and sometimes orange. The colour is stable up to 1000°C.
The crystals are often small, average weight of cut material is 0.1 to 0.4 carats, but may reach several carats.
General Information
A variety or type of:
Beryl
Other Names/Trade Names:
Photos of natural/un-cut material from mindat.org
Physical Properties of Red Beryl
Mohs Hardness

7.5 to 8

Blue Chart Gem Identification

(2010)

,
Specific Gravity

2.63 to 2.72

Blue Chart Gem Identification

(2010)

,
Optical Properties of Red Beryl
Refractive Index

1.560 to 1.576

Blue Chart Gem Identification

(2010)

, More from other references
Optical Character

Uniaxial/-

Blue Chart Gem Identification

(2010)

,
Birefringence

0.005 to 0.009

Blue Chart Gem Identification

(2010)

, More from other references
Colour
Colour (General)

Red, violet-red

Gemmological Tables

(2004)

, More from other references
Causes of Colour
Red, Mn3+ in octahedral coordination.

Pragmatic Spectroscopy For Gemologists

(2011)

,
Fluorescence & other light emissions
Fluorescence (General)

Inert

Blue Chart Gem Identification

(2010)

,
Crystallography of Red Beryl
Crystal System

Hexagonal

Blue Chart Gem Identification

(2010)

,
Habit

Prismatic to thick-tabular crystals, less than 1 cm and rarely 2 cm or more in length.

Geology of gems

(2003)

,
Inclusions in Red Beryl
Solid inclusions are quartz, potash feldspar (adularia), bixbyite and hematite. - Aurisicchio, 1990.
"Fingerprints" made by numerous fluid inclusions - Blue Chart Gem Identification, Herve Nicolas Lazzarelli, 2010, p 6
Further Information
Mineral information:
Red Beryl information at mindat.org
Significant Gem Localities

USA

http://www.agmc.info/nm_mineral_locations.htm#Paramount%20Canyon,%20Sierra%20Co.,%20New%20Mexico
Northrup, Minerals of New Mexico, 3rd Rev. Ed., 1996
L. Ream (1979) Famous Mineral Localities: The Thomas Range, Wah Wah Mountains, and Vicinity, Western Utah. Mineralogical Record 10:261-278; Van King
Am Min 19:82-88; Bowling, R. (2011) Topaz from Utsh's Maynard Mine Extra Lapis English 14:22-25
Van King
Christian Bracke Collection
J. Holfert, W. Mroch, J. Fuller (1996) A Field Guide to Topaz and Associated Minerals of the Thomas Range, Utah (Topaz Mountain) Vol I HM Publishing 103pp
A Field Guide to Topaz and Associated Minerals of the Thomas Range, Utah- John Holfert et al, 1996