Diopside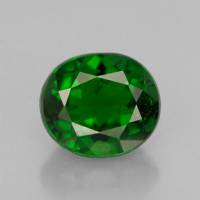 Chrome-Diopside
Russia
0.89 carats
© gemselect.com
Diopside is named after Greek word for "double appearance" because of its crystal shape. It is one of the most common members of the Pyroxene Group.
Diopside has a number of gem-quality varieties, including intense green
Chrome diopside
and fine blue
Violane
. Black diopside exhbiiting asterism or the Star effect is known.
Usual weight of cut stones is 1 - 20 carats. Compact fine-grained varieties are used as jewelry-industrial stone.
General Information
Varieties/Types:

Lavrovite

- A green vanadium-bearing variety of Diopside.

Violane

- Violet-blue Manganese-bearing variety of diopside

Chemical Formula

Gems, Sixth Edition

(2006)

, More from other references
Photos of natural/un-cut material from mindat.org
Physical Properties of Diopside
Mohs Hardness

5 to 6

Blue Chart Gem Identification

(2010)

, More from other references
Specific Gravity

3.22 to 3.40

Blue Chart Gem Identification

(2010)

, More from other references
Cleavage Quality

Good

Gemstones of the world

(2001)

, More from other references
Fracture

Uneven

Gemstones of the world

(2001)

, More from other references
Optical Properties of Diopside
Refractive Index

1.664 to 1.730

Blue Chart Gem Identification

(2010)

, More from other references
Optical Character

Biaxial/+

Blue Chart Gem Identification

(2010)

, More from other references
Birefringence

0.024 to 0.030

Blue Chart Gem Identification

(2010)

, More from other references
Pleochroism

Common trichroism: light green - yellow green - dark green

Blue Chart Gem Identification

(2010)

, More from other references
Dispersion

0.017 to 0.020

Gemstones of the world

(2001)

, More from other references
Chatoyancy

Black star: white sharp rays (commonly 4)

Blue Chart Gem Identification

(2010)

,
Colour
Colour (General)

Green, yellow, colourless, brown, black

Gemstones of the world

(2001)

, More from other references
Causes of Colour
Green (Chromian Diopside), Cr3+ in octahedral coordination; V3+ in octahedral coordination. Yellowish green, Fe2+ in octahedral coordination

Pragmatic Spectroscopy For Gemologists

(2011)

,
Transparency

Transparent,Translucent,Opaque

Gemmological Tables

(2004)

, More from other references
Lustre

Vitreous

Gemstones

(2009)

,
Fluorescence & other light emissions
Fluorescence (General)

Violet, orange, yellow, green.

Gemstones of the world

(2001)

, More from other references
Fluorescence (Short Wave UV)

No respond

Gems, Sixth Edition

(2006)

,
Fluorescence (Long-Wave UV)

Some green specimens show green

Gems, Sixth Edition

(2006)

,
Fluorescence (X-RAY)

Dull mustard-yellow glow

Gems, Sixth Edition

(2006)

,
Crystallography of Diopside
Crystal System

Monoclinic

Blue Chart Gem Identification

(2010)

, More from other references
Habit

Prismatic crystals with nearly square cross-section and twinning common

Gems, Sixth Edition

(2006)

, More from other references
Geological Environment
Where found:

Typical of metamorphosed siliceous Ca, Mg-rich rocks of the pyroxene-hornfels or epidote-amphibolite facies; common in skarns, Ca, Mg-rich gneisses and schists, and some kimberlites and peridotites. Less common in alkalic olivine basalts and andesites.

Handbook of mineralogy

(2001)

,
Inclusions in Diopside
Magnetite needles: may react to magnet - Blue Chart Gem Identification, Herve Nicolas Lazzarelli, 2010, p 4
Magnetite, healing cracks, liquid inclusions - Gemmological Tables, Ulrich Henn and Claudio C. Milisenda, 2004, p 19
Further Information
Mineral information:
Diopside information at mindat.org
Significant Gem Localities

Italy

[var: Violane] Gemstones of the world, W.Schumann, 2001, p.190
[var: Lavrovite]

Myanmar

Ted Themelis (2008) Gems & mines of Mogok
Ted Themelis (2008) Gems & mines of Mogok
Ted Themelis (2008) Gems & mines of Mogok
Ted Themelis (2008) Gems & mines of Mogok
Ted Themelis (2008) Gems & mines of Mogok
Ted Themelis (2008) Gems & mines of Mogok
Ted Themelis (2008) Gems & mines of Mogok
Ted Themelis (2008) Gems & mines of Mogok
Ted Themelis (2008) Gems & mines of Mogok
Ted Themelis (2008) Gems & mines of Mogok
Ted Themelis (2008) Gems & mines of Mogok
Ted Themelis (2008) Gems & mines of Mogok

Dattaw-taung (Dattaw hill)

Ted Themelis (2008) Gems & mines of Mogok
Ted Themelis (2008) Gems & mines of Mogok
Ted Themelis (2008) Gems & mines of Mogok
Ted Themelis (2008) Gems & mines of Mogok
Ted Themelis (2008) Gems & mines of Mogok
Ted Themelis (2008) Gems & mines of Mogok

Pein-Pyit (Painpyit; Pyan Pyit)

Ted Themelis (2008) Gems & mines of Mogok
Ted Themelis (2008) Gems & mines of Mogok

Russia

[var: Lavrovite]
[var: Chrome-Diopside] Gadiyatov (1996)

USA

Gems, Sixth Edition, Michael O'Donoghue, 2006, p. 405