Jeremejevite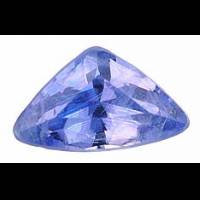 Mile 72, Cape Cross area, Arandis Constituency, Erongo Region, Namibia
0.55 carats
© irocks.com
Jeremejevite is named after P.V. Jeremejev, Russian mineralogist and engineer, who first recognized the mineral.
Jeremejevite forms pale blue-green, cornflower-blue, brown or colourless transparent crystals, usually zoned in light hues.
Most gem material comes from Namibia. Jeremejevite produces attractive colourless, yellowish and blue faceted stones which rarely exceed 1 carat in weight.
General Information
Chemical Formula

Gemmological Tables

(2004)

, More from other references
Photos of natural/un-cut material from mindat.org
Physical Properties of Jeremejevite
Mohs Hardness

6.5 to 7.5

Gemstones of the world

(2001)

, More from other references
Specific Gravity

3.28 to 3.31

Gemstones of the world

(2001)

, More from other references
Cleavage Quality

None

Gemstones

(2009)

,
Fracture

Conchoidal

Gemstones

(2009)

,
Optical Properties of Jeremejevite
Refractive Index

1.638 to 1.650

Blue Chart Gem Identification

(2010)

, More from other references
Optical Character

Uniaxial/-

Blue Chart Gem Identification

(2010)

, More from other references
Birefringence

0.007 to 0.009

Blue Chart Gem Identification

(2010)

, More from other references
Pleochroism

Dichroism: colorless - body color

Blue Chart Gem Identification

(2010)

, More from other references
Dispersion

Distinct

Gemstones

(2009)

,
Colour
Colour (General)

Colourless, yellow, blue, violet

Gemmological Tables

(2004)

, More from other references
Transparency

Transparent

Gemmological Tables

(2004)

, More from other references
Lustre

Vitreous

Gemstones

(2009)

,
Fluorescence & other light emissions
Fluorescence (General)

Inert

Blue Chart Gem Identification

(2010)

,
Crystallography of Jeremejevite
Crystal System

Hexagonal

Blue Chart Gem Identification

(2010)

, More from other references
Habit

Hexagonal prisms, sometimes tapered with vicinal forms and with pyramidal terminations

Gems, Sixth Edition

(2006)

, More from other references
Geological Environment
Where found:

A rare late hydrothermal mineral formed in granite pegmatites

Gems, Sixth Edition

(2006)

,
Inclusions in Jeremejevite

Growth lines and zoning, "fingerprints" (partially healed fractures with fluid-filled channels) - Blue Chart Gem Identification, Herve Nicolas Lazzarelli, 2010, p 4

Further Information
Mineral information:
Jeremejevite information at mindat.org
Significant Gem Localities

Myanmar

Ted Themelis (2008) Gems & mines of Mogok
Ted Themelis (2008) Gems & mines of Mogok
Ted Themelis (2008) Gems and Mines of Mogok
Ted Themelis (2008) Gems & mines of Mogok

Namibia

Gems, Sixth Edition, Michael O'Donoghue, 2006, p. 420

Russia

Gems, Sixth Edition, Michael O'Donoghue, 2006, p. 420

Tajikistan