Azurite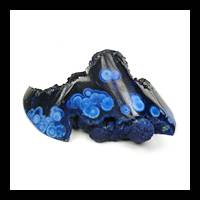 Arizona, USA
44.07 carats
© Palagems
Azurite is named after the Persian word "lazhward", for its characteristic blue colour. It occurs in the weathered zone of copper ore-bodies usually in association with
malachite
. Azurite is less stable in open air than
malachite
, and is often pseudomorphically replaced by it. Or they can form together as
azurmalachite
.
Azurite is famous for its superb colour and interesting forms. It was formerly used for azure pigment. It can be cut into cabochons, faceted into gems and used for ornamental objects.
Azurite dust is toxic and must not be inhaled when cutting and polishing.
Azurite is also known as
chessylite
after the type locality at Chessy-les-Mines near Lyon, France.
General Information
Other Names/Trade Names:
Chemical Formula

Gems, Sixth Edition

(2006)

, More from other references
Photos of natural/un-cut material from mindat.org
Azurite Treatments

May be coated with colorless wax - Blue Chart Gem Identification, Herve Nicolas Lazzarelli, 2010, p 3

Physical Properties of Azurite
Mohs Hardness

3.5 to 4

Blue Chart Gem Identification

(2010)

, More from other references
Specific Gravity

3.70 to 3.90

Blue Chart Gem Identification

(2010)

, More from other references
Tenacity

Brittle

Gemstones of the world

(2001)

,
Cleavage Quality

Indistinct

Gemstones of the world

(2001)

, More from other references
Fracture

Conchoidal

Gemstones

(2009)

,
Heat Sensitivity

Sensitive to heat.

Gemstones

(2009)

,
Light Sensitivity

Bright light may reduce its colour.

Gemstones

(2009)

,
Optical Properties of Azurite
Refractive Index

1.720 to 1.850

Blue Chart Gem Identification

(2010)

, More from other references
Optical Character

Biaxial/+

Blue Chart Gem Identification

(2010)

, More from other references
Birefringence

0.108 to 0.110

Blue Chart Gem Identification

(2010)

, More from other references
Pleochroism

Distinct: dark-blue - light blue

Blue Chart Gem Identification

(2010)

, More from other references
Dispersion

Visible

Gemstones

(2009)

,
Colour
Colour (General)

Dark blue, azure blue

Gemstones of the world

(2001)

, More from other references
Causes of Colour
Blue, Cu2+ in elongated octahedral coordination

Pragmatic Spectroscopy For Gemologists

(2011)

,
Transparency

Transparent,Translucent,Opaque

Gemstones of the world

(2001)

, More from other references
Lustre

Vitreous

Gemstones

(2009)

,
Fluorescence & other light emissions
Fluorescence (General)

None

Gemstones of the world

(2001)

,
Crystallography of Azurite
Crystal System

Monoclinic

Blue Chart Gem Identification

(2010)

, More from other references
Habit
Crystals of varied habit, often in spherical radiating groups. It is common in botryoidal or stalagmitic groups and
massive in veins with malachite.

Gems, Sixth Edition

(2006)

, More from other references
Geological Environment
Where found:

Azurite is found in the oxidized zones of copper deposits and is very often intimately associated with malachite to the extent that the name azur-malachite has been used.

Gems, Sixth Edition

(2006)

,
Inclusions in Azurite

Common as banded aggregate in wavy pattern: often intergrown with malachite - Blue Chart Gem Identification, Herve Nicolas Lazzarelli, 2010, p 3

Further Information
Mineral information:
Azurite information at mindat.org
Significant Gem Localities

France

Gems, Sixth Edition, Michael O'Donoghue, 2006, p. 386

Namibia

Gems, Sixth Edition, Michael O'Donoghue, 2006, p. 386

Peru

USA

No reference listed