Lazurite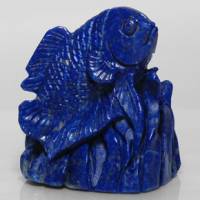 Lapis lazuli
Afghanistan
444.55 carats
© gemselect.com
Lazurite is named after Latin "lazulum" or Persian "lazhward" - blue, alluding to its colour.
Lazurite can be found as well-formed crystals of deep blue colour. But it is more frequent in its massive form as the main component of
Lapis Lazuli
.
Lazurite is cut into cabochons or can be used for carvings.
Mineralogically speaking Lazurite is a sulfide-rich variety of Hauyne.
General Information
A variety or type of:
Haüyne
Varieties/Types:
Chemical Formula

Gemmological Tables

(2004)

, More from other references
Photos of natural/un-cut material from mindat.org
Physical Properties of Lazurite
Mohs Hardness

5.5

Gemmological Tables

(2004)

, More from other references
Specific Gravity

2.75

Gemmological Tables

(2004)

, More from other references
Tenacity

Brittle

Handbook of mineralogy

(2001)

,
Cleavage Quality

Poor

Gemstones

(2009)

, More from other references
Fracture

Uneven

Gemstones

(2009)

,
Optical Properties of Lazurite
Refractive Index

1.500

Gemmological Tables

(2004)

, More from other references
Optical Character

Isotropic

Gemmological Tables

(2004)

, More from other references
Dispersion

Nil

Gemstones

(2009)

,
Colour
Colour (General)

Blue

Gemmological Tables

(2004)

, More from other references
Causes of Colour
Blue (lapis lazuli), S3 - (charge transfer)

Pragmatic Spectroscopy For Gemologists

(2011)

,
Transparency

Opaque

Gemmological Tables

(2004)

, More from other references
Lustre

Vitreous

Gemstones

(2009)

,
Crystallography of Lazurite
Crystal System

Isometric

Gemmological Tables

(2004)

, More from other references
Habit

Dodecahedral

Gemstones

(2009)

, More from other references
Geological Environment
Where found:

A contact metamorphic mineral in limestones

Handbook of mineralogy

(2001)

,
Inclusions in Lazurite

Commonly blue (lazurite) speckled with white (calcite) spots, golden coloured pyrite inclusions - Gemmological Tables, Ulrich Henn and Claudio C. Milisenda, 2004, p 4

Further Information
Mineral information:
Lazurite information at mindat.org
Significant Gem Localities

Afghanistan

[var: Lapis lazuli] Bowersox and Chamberlin (1995)

Asia

[var: Lapis lazuli] Spiridonov (1998)

Chile

[var: Lapis lazuli]
[var: Lapis lazuli] Ward (1996)

Myanmar

[var: Lapis lazuli]
[var: Lapis lazuli] Ted Themelis (2008) Gems & mines of Mogok
[var: Lapis lazuli] Ted Themelis (2008) Gems & mines of Mogok
[var: Lapis lazuli] Ted Themelis (2008) Gems & mines of Mogok
[var: Lapis lazuli] Ted Themelis (2008) Gems & mines of Mogok
[var: Lapis lazuli] Ted Themelis (2008) Gems & mines of Mogok
[var: Lapis lazuli] Ted Themelis (2008) Gems & mines of Mogok
[var: Lapis lazuli] Ted Themelis (2008) Gems & mines of Mogok
[var: Lapis lazuli] Ted Themelis (2008) Gems & mines of Mogok
[var: Lapis lazuli] Ted Themelis (2008) Gems & mines of Mogok
[var: Lapis lazuli] Ted Themelis (2008) Gems & mines of Mogok

Dattaw-taung (Dattaw hill)

[var: Lapis lazuli] Ted Themelis (2008) Gems & mines of Mogok
[var: Lapis lazuli] Ted Themelis (2008) Gems & mines of Mogok
[var: Lapis lazuli] Ted Themelis (2008) Gems & mines of Mogok

Pein-Pyit (Painpyit; Pyan Pyit)

Ted Themelis (2008) Gems & mines of Mogok

Russia

[var: Lapis lazuli] Spiridonov (1998)

Malaya Bystraya River Valley

[var: Lapis lazuli]

Tajikistan

[var: Lapis lazuli]

USA

Dorchester Mining District

[var: Lapis lazuli]