Titanite (Sphene)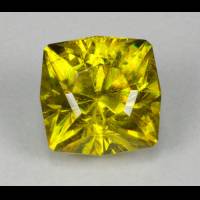 Madagascar
4.10 carats
© Rarestone.com
The mineralogical name Titanite comes from its titanium contents. It is also known as Sphene, from Greek word for "wedge", referring to the typical crystal shape of this mineral.
Transparent specimens are noted for their strong trichroism, the three colours depend on the base stone colour. Its very high dispersion 0.051 (higher than
Diamond
0.044) helps to give cut stones an intense fire. Usual weight of cut stones is 1-2 carats, occasionally to 10-12 carats.
General Information
Other Names/Trade Names:
Chemical Formula

Gemmological Tables

(2004)

,
Photos of natural/un-cut material from mindat.org
Titanite Treatments

It can be changed to red or orange through heating. - Gemstones of the world, Walter Schumann, 2001, p 194

Physical Properties of Titanite
Mohs Hardness

5 to 5.5

Gemstones of the world

(2001)

, More from other references
Specific Gravity

3.52 to 3.54

Gemstones of the world

(2001)

, More from other references
Tenacity

Brittle

Gemstones of the world

(2001)

,
Cleavage Quality

Good

Gemstones of the world

(2001)

, More from other references
Fracture

Conchoidal

Gemstones of the world

(2001)

,
Optical Properties of Titanite
Refractive Index

1.843 to 2.110

Gemstones of the world

(2001)

, More from other references
Optical Character

Biaxial/+

Blue Chart Gem Identification

(2010)

, More from other references
Birefringence

0.100 to 0.192

Gemstones of the world

(2001)

, More from other references
Pleochroism
Green stones - strong trichroism: typically colorless - greenish yellow - brownish to yellow;
Orange/brown stones - strong: colorless - yellow - reddish-orange; Yellow stones - distinct: colorless - green-yellow - brownish-orange

Blue Chart Gem Identification

(2010)

,
Dispersion

0.051

Gemstones of the world

(2001)

, More from other references
Colour
Colour (General)

Yellow, yellowish-green, green, brownish-green, brown

Gemmological Tables

(2004)

, More from other references
Causes of Colour
Green, high Fe content. Green (chrome sphene), Cr3+ in octahedral coordination. Pink, Mn2+ in octahedral, for certain Mn/Fe ratios, as well as pink carbonate inclusions

Pragmatic Spectroscopy For Gemologists

(2011)

,
Transparency

Transparent,Translucent,Opaque

Gemstones of the world

(2001)

, More from other references
Lustre

Adamantine

Gemstones

(2009)

, More from other references
Fluorescence & other light emissions
Fluorescence (General)

None

Gemstones of the world

(2001)

, More from other references
Crystallography of Titanite
Crystal System

Monoclinic

Blue Chart Gem Identification

(2010)

, More from other references
Habit

Wedge-shaped prisms

Gemstones

(2009)

, More from other references
Geological Environment
Where found:

A common accessory mineral in intermediate and felsic plutonic rocks, pegmatites, and alpine veins. In gneisses, schists, and some skarns; rarely detrital.

Handbook of mineralogy

(2001)

,
Spectrographic Data
Calculated Spectra:


Click spectra for more information

Inclusions in Titanite

Straight rows and/or "feathers" of tiny crystals. Actinolite needles

Further Information
Mineral information:
Titanite information at mindat.org
Significant Gem Localities

Afghanistan

Garnier, V., Giuliani, G., Ohnenstetter, D., Fallick, A.E., Dubessy, J., Banks, D., Vinh, H.Q., Lhomme, T., Maluski, H., Pêcher, A., Bakhsh, K.A., Long, P.V., Trinh, P.T., and Schwarz, D. (2008): Ore Geology Reviews 34, 169-191.

Australia

McColl and Petersen (1990)

Brazil

Canada

Robinson and Wight (1997)

Kenya

Collection of NHM, Vienna

Myanmar

Ted Themelis (2008) Gems & mines of Mogok
Ted Themelis (2008) Gems & mines of Mogok
Ted Themelis (2008) Gems & mines of Mogok
Ted Themelis (2008) Gems & mines of Mogok
Ted Themelis (2008) Gems & mines of Mogok

Dattaw-taung (Dattaw hill)

Ted Themelis (2008) Gems & mines of Mogok
Ted Themelis (2008) Gems & mines of Mogok
Ted Themelis (2008) Gems & mines of Mogok

Russia

Hyrsl and Milisenda (1995)

Sri Lanka

Milisenda and Henn (1999)

Switzerland