Aventurine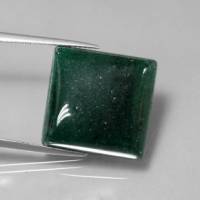 Brazil
19.54 carats
© gemselect.com
The name aventurine derives from the Italian "a ventura" meaning "by chance".
Aventurine is a feebly translucent, fine-grained to compact variety of
Quartzite
, the surface of which has a speckled, metallic sheen, usually of a reddish-brown colour, but occasionally yellow, white, blue or green. This appearance is caused by the presence, in the colourless
quartz
substance, of numbers of enclosures (scales of mica, plates of chrome-mica fuchsite, etc.), which can always be seen with the aid of the microscope, and sometimes with a simple lens, or with the naked eye.
Also known as Indian Jade.
General Information
A variety or type of:
Quartzite, which is a variety of Quartz
Other Names/Trade Names:
Chemical Formula

Gemstones of the world

(2001)

,
Photos of natural/un-cut material from mindat.org
Synthetic Aventurine
Aventurine-glass is an artificial product which resembles natural aventurine but possesses an even finer appearance. It is a colourless glass in which are embedded numerous small red octahedra, the faces of which are equilateral triangles. The chemical composition of the material, the well-defined crystalline form, together with the red colour and strong metallic lustre of the enclosures, point to the fact that the latter consists of metallic copper. The much lower hardness of aventurine-glass, together with the form of the enclosures, which can be readily made out with a lens, definitely distinguishes it in all cases from natural aventurine and from sunstone. - Precious stones, Max Bauer, 1968, p 503
Physical Properties of Aventurine
Mohs Hardness

7 to 6.5

Blue Chart Gem Identification

(2010)

, More from other references
Specific Gravity

2.64 to 2.69

Blue Chart Gem Identification

(2010)

, More from other references
Tenacity

Brittle

Gemstones of the world

(2001)

,
Cleavage Quality

None

Gemstones of the world

(2001)

,
Fracture

Conchoidal,Splintery

Precious stones

(1968)

,
Optical Properties of Aventurine
Refractive Index

1.544 to 1.553

Blue Chart Gem Identification

(2010)

, More from other references
Optical Character

Biaxial/-

Blue Chart Gem Identification

(2010)

,
Birefringence

0.007 to 0.010

Blue Chart Gem Identification

(2010)

,
Pleochroism

Absent

Gemstones of the world

(2001)

,
Dispersion

None

Gemstones of the world

(2001)

,
Colour
Colour (General)

Green, red-brown, gold-brown

Gemstones of the world

(2001)

, More from other references
Colour (Chelsea Filter)

Reddish

Blue Chart Gem Identification

(2010)

,
Causes of Colour
Green, chromian mica (fuchsite) inclusions. Greenish yellow, color center.

Pragmatic Spectroscopy For Gemologists

(2011)

,
Transparency

Translucent,Opaque

Gemstones of the world

(2001)

, More from other references
Fluorescence & other light emissions
Fluorescence (General)

Green aventurine: reddish

Gemstones of the world

(2001)

, More from other references
Crystallography of Aventurine
Crystal System

Triclinic

Blue Chart Gem Identification

(2010)

,
Habit

Massive

Gemstones of the world

(2001)

,
Geological Environment
Where found:

Occurs both in primary deposits and also as loose pebbles.

Precious stones

(1968)

,
Inclusions in Aventurine

Aventurescence caused by platy inclusions of green mica (fuchsite) - Blue Chart Gem Identification, Herve Nicolas Lazzarelli, 2010, p 7

Further Information
Mineral information:
Aventurine information at mindat.org
Significant Gem Localities

Austria

Bruck-Mürzzuschlag District

Max Bauer, Precious stones (1968)

India

Max Bauer, Precious stones (1968)