Lazulite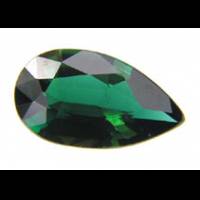 Pakistan
0.75 carats
© irocks.com
Lazulite was first described in 1795 for deposits in Styria, Austria. Its name comes from the German lazurstein - blue stone; or from the Arabic - heaven, because of its blue colour.
Lazulite is sometimes confused with 2 better known and more common minerals:
lazurite
and
azurite
. Lazulite frequently appears as euhedral crystals rather than in massive form.
General Information
Chemical Formula

Gemstones

(2009)

, More from other references
Photos of natural/un-cut material from mindat.org
Physical Properties of Lazulite
Mohs Hardness

5.5

Blue Chart Gem Identification

(2010)

, More from other references
Specific Gravity

3.04 to 3.17

Blue Chart Gem Identification

(2010)

, More from other references
Tenacity

Brittle

Gemstones of the world

(2001)

,
Cleavage Quality

Indistinct

Gemstones of the world

(2001)

, More from other references
Fracture

Uneven,Splintery

Gemstones of the world

(2001)

, More from other references
Optical Properties of Lazulite
Refractive Index

1.604 to 1.646

Blue Chart Gem Identification

(2010)

, More from other references
Optical Character

Biaxial/-

Blue Chart Gem Identification

(2010)

, More from other references
Birefringence

0.031 to 0.036

Blue Chart Gem Identification

(2010)

, More from other references
Pleochroism

Transparent crystals show a strong pleochroism: colorless - light blue - dark (violet) blue

Blue Chart Gem Identification

(2010)

, More from other references
Dispersion

0.014

Gemstones

(2009)

,
Colour
Colour (General)

Dark blue to blue-white, green-blue

Gemstones of the world

(2001)

, More from other references
Causes of Colour
Blue, Fe2+-O-Fe3+ charge transfer

Pragmatic Spectroscopy For Gemologists

(2011)

,
Transparency

Transparent,Translucent,Opaque

Blue Chart Gem Identification

(2010)

, More from other references
Lustre

Vitreous

Gemstones

(2009)

,
Fluorescence & other light emissions
Fluorescence (General)

None

Gemstones of the world

(2001)

, More from other references
Crystallography of Lazulite
Crystal System

Monoclinic

Blue Chart Gem Identification

(2010)

, More from other references
Habit

Stubby to acute dipyramidal crystals

Gems, Sixth Edition

(2006)

, More from other references
Geological Environment
Where found:

Occurs in granite pegmatites and in quartzites

Gems, Sixth Edition

(2006)

,
Further Information
Mineral information:
Lazulite information at mindat.org
Significant Gem Localities

Brazil

Gems, Sixth Edition, Michael O'Donoghue, 2006, p. 323

Canada

mindat.org