Moonstone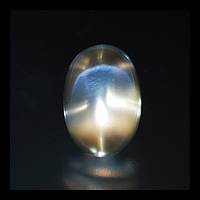 Myanmar
4.57 carats
© Palagems
Moonstone is colourless, very translucent, or almost perfectly transparent feldspar, which in certain direction reflects a bluish, milky light, that has been compared to the light of the moon.
Moonstone is a potassium feldspar of the orthoclase species with white shimmer, similar to moonshine (therefore the name), called adularescence. Thin alternating layers of
orthoclase
and
albite
create the light interference in this material that is responsible for its "shiller" or "floating moon effect".
Only specimens which show this sheen in a typical manner are cut as gems. To display the beauty of this stone to the best possible advantage , it is cut with a convex, polished surface of moderately strong curvature about the face which exhibits the sheen. The stone is very effective in cut and polished spheres, which may be strung together and worn as beads or for other ornamental purposes, when they have a certain resemblance to white pearls. Moonstone is always cut either en cabochon or with a plane surface, never with facets.
General Information
A variety or type of:
Orthoclase, which is a variety of Feldspar
Other Names/Trade Names:
Chemical Formula

Gemstones of the world

(2001)

,
Photos of natural/un-cut material from mindat.org
Moonstone Simulants

Imitated by adularescent synthetic spinel (possibly with mirror-like back coating), milky chalcedony, glass - Blue Chart Gem Identification, Herve Nicolas Lazzarelli, 2010, p 8

Physical Properties of Moonstone
Mohs Hardness

6 to 6.5

Gemmological Tables

(2004)

,
Specific Gravity

2.56 to 2.60

Gemmological Tables

(2004)

, More from other references
Cleavage Quality

Perfect

Gemmological Tables

(2004)

,
Fracture

Uneven,Conchoidal

Gemstones of the world

(2001)

,
Optical Properties of Moonstone
Refractive Index

1.518 to 1.527

Gemmological Tables

(2004)

, More from other references
Optical Character

Biaxial/-

Gemmological Tables

(2004)

,
Birefringence

0.006 to 0.007

Gemmological Tables

(2004)

,
Pleochroism

Absent

Gemstones of the world

(2001)

,
Dispersion

None

Gemstones of the world

(2001)

,
Colour
Colour (General)

Colourless, white, adularescent with a silvery or bluish sheen, green, brownish, reddish.

Gemmological Tables

(2004)

, More from other references
Transparency

Transparent,Translucent

Gemmological Tables

(2004)

, More from other references
Lustre

Vitreous

Gemstones of the world

(2001)

,
Fluorescence & other light emissions
Fluorescence (General)

Weak; bluish, orange

Gemstones of the world

(2001)

,
Fluorescence (Short Wave UV)

Inert to orangy-(reddish)

Blue Chart Gem Identification

(2010)

, More from other references
Fluorescence (Long-Wave UV)

Inert to blue (and pinkish)

Blue Chart Gem Identification

(2010)

,
Crystallography of Moonstone
Crystal System

Monoclinic

Gemmological Tables

(2004)

,
Habit

Prismatic

Gemstones of the world

(2001)

,
Geological Environment
Where found:

The most prominent source is in the gravels and pegmatites

Gems, Sixth Edition

(2006)

,
Inclusions in Moonstone
Typical "centipede" inclusions - Blue Chart Gem Identification, Herve Nicolas Lazzarelli, 2010, p 8

Healing cracks, crystal inclusions, cleavage cracks - Gemmological Tables, Ulrich Henn and Claudio C. Milisenda, 2004, p 5
Further Information
Mineral information:
Moonstone information at mindat.org
Significant Gem Localities

Myanmar

Ted Themelis (2008) Gems & mines of Mogok
Ted Themelis (2008) Gems & mines of Mogok
Ted Themelis (2008) Gems & mines of Mogok
Ted Themelis (2008) Gems & mines of Mogok
Ted Themelis (2008) Gems & mines of Mogok
Ted Themelis (2008) Gems & mines of Mogok
Ted Themelis (2008) Gems & mines of Mogok
Ted Themelis (2008) Gems & mines of Mogok
Ted Themelis (2008) Gems & mines of Mogok
Ted Themelis (2008) Gems & mines of Mogok
Ted Themelis (2008) Gems & mines of Mogok

Dattaw-taung (Dattaw hill)

Ted Themelis (2008) Gems & mines of Mogok
Ted Themelis (2008) Gems & mines of Mogok
Ted Themelis (2008) Gems & mines of Mogok
Ted Themelis (2008) Gems & mines of Mogok
Ted Themelis (2008) Gems & mines of Mogok
Ted Themelis (2008) Gems & mines of Mogok
Ted Themelis (2008) Gems & mines of Mogok
Ted Themelis (2008) Gems & mines of Mogok
Ted Themelis (2008) Gems & mines of Mogok
Ted Themelis (2008) Gems & mines of Mogok
Ted Themelis (2008) Gems & mines of Mogok
Ted Themelis (2008) Gems & mines of Mogok
Ted Themelis (2008) Gems & mines of Mogok
Ted Themelis (2008) Gems & mines of Mogok
Ted Themelis (2008) Gems & mines of Mogok

Pein-Pyit (Painpyit; Pyan Pyit)

Ted Themelis (2008) Gems & mines of Mogok
Ted Themelis (2008) Gems & mines of Mogok
Ted Themelis (2008) Gems & mines of Mogok

Sri Lanka

Gemexplorer.org