Scapolite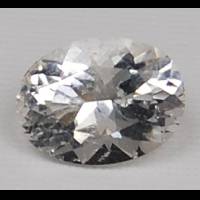 Afghanistan
1.06 carats
© Rarestone.com
Scapolite is named after Greek word stick (in some sources "shaft") because of its square-section prismatic shape of the crystals.
Pink and violet Scapolite cat's eyes are known.
In mineralogy Scapolite refers to a group of related silicate minerals, including
Meionite
and
Marialite
. The name
Wernerite
is often given to Scapolite minerals intermediate between Meionite and Marialite.
Cut stones can reach several carats, yellow - to 70 carats and colourless - to several hundred carats.
General Information
Varieties/Types:
Chemical Formula

| | | | | | | | | | | | | | | | | | | | | |
| --- | --- | --- | --- | --- | --- | --- | --- | --- | --- | --- | --- | --- | --- | --- | --- | --- | --- | --- | --- | --- |
| Na | | Al | | Si | | O | | Cl to Ca | | Al | | Si | | O | | (CO | | ,SO | | ) |

Gemstones of the world

(2001)

, More from other references
Photos of natural/un-cut material from mindat.org
Scapolite Treatments
Colorless or yellow material, as well as scapolite cat's-eyes, were found to turn a purple (amethystine) color on irradiation by X-rays, electrons, or on exposure to radium (Pough and Rogers, 1947; Pough, 1957). This strongly dichroic color faded rapidly on heating or on exposure to light, but was not stable even if the irradiated stones were kept in the dark. Naturally occurring scapolite of this color does not fade – Nassau (1984)
Violet color may result from irradiation of colorless to light yellow varieties: unstable - Blue Chart Gem Identification, Herve Nicolas Lazzarelli, 2010, p 7
Physical Properties of Scapolite
Mohs Hardness

5.5 to 6

Gemstones of the world

(2001)

, More from other references
Specific Gravity

2.58 to 2.74

Blue Chart Gem Identification

(2010)

, More from other references
Tenacity

Brittle

Gemstones of the world

(2001)

,
Cleavage Quality

Good

Gemstones of the world

(2001)

, More from other references
Fracture

Conchoidal

Gemstones of the world

(2001)

, More from other references
Optical Properties of Scapolite
Refractive Index

1.540 to 1.579

Gemstones of the world

(2001)

, More from other references
Optical Character

Uniaxial/-

Blue Chart Gem Identification

(2010)

, More from other references
Birefringence

0.006 to 0.037

Gemstones of the world

(2001)

, More from other references
Pleochroism

Pink stones - distinct: colorless - pink; Yellow stones - distinct: colorless-(yellowish) - yellow; Violet/purple - strong: violet-blue - dark blue

Blue Chart Gem Identification

(2010)

, More from other references
Dispersion

0.017

Gemstones

(2009)

,
Chatoyancy

Yes, star 4 (rare). Common pink, violet, colorless cat's eyes

Blue Chart Gem Identification

(2010)

, More from other references
Colour
Colour (General)

Yellow, rose-pink, violet, colourless

Gemmological Tables

(2004)

, More from other references
Causes of Colour
Various colors, color centers related to irradiation of Cl, CO23 or SO24 - groups present in the large voids of the crystal structure

Pragmatic Spectroscopy For Gemologists

(2011)

,
Transparency

Transparent

Gemmological Tables

(2004)

, More from other references
Lustre

Vitreous

Gemstones

(2009)

,
Fluorescence & other light emissions
Fluorescence (General)

Pink: orange, pink; Yellow: violet, blue-red

Gemstones of the world

(2001)

, More from other references
Fluorescence (Short Wave UV)

There are variable responses with some phosphorescence reported

Gems, Sixth Edition

(2006)

, More from other references
Fluorescence (Long-Wave UV)

Yellow specimens from Myanmar give yellow to orange and some East African yellow stones show a very bright yellow-green

Gems, Sixth Edition

(2006)

, More from other references
Fluorescence (X-RAY)

There are variable responses with some phosphorescence reported

Gems, Sixth Edition

(2006)

,
Crystallography of Scapolite
Crystal System

Tetragonal

Blue Chart Gem Identification

(2010)

, More from other references
Habit

Prismatic, usually with flat pyramidal terminations; masses are also known.

Gems, Sixth Edition

(2006)

, More from other references
Geological Environment
Where found:

Occurs in regionally metamorphosed rocks, particularly in marbles.

Gems, Sixth Edition

(2006)

,
Inclusions in Scapolite

Hollow tubes, needle-like crystals - Gemmological Tables, Ulrich Henn and Claudio C. Milisenda, p 8

Further Information
Mineral information:
Scapolite information at mindat.org
Significant Gem Localities

Madagascar

Madagascar, extraLapis, English No.1, 2001, p. 44

Myanmar

Ted Themelis (2008) Gems & mines of Mogok
Ted Themelis (2008) Gems & mines of Mogok
Ted Themelis (2008) Gems & mines of Mogok
Ted Themelis (2008) Gems & mines of Mogok
Ted Themelis (2008) Gems & mines of Mogok
Ted Themelis (2008) Gems & mines of Mogok
Ted Themelis (2008) Gems & mines of Mogok
Ted Themelis (2008) Gems & mines of Mogok
Ted Themelis (2008) Gems & mines of Mogok
Ted Themelis (2008) Gems & mines of Mogok
Gems, Sixth Edition, Michael O'Donoghue, 2006, p. 446
Ted Themelis (2008) Gems & mines of Mogok
Ted Themelis (2008) Gems & mines of Mogok
Ted Themelis (2008) Gems & mines of Mogok
Ted Themelis (2008) Gems & mines of Mogok
Ted Themelis (2008) Gems & mines of Mogok
Ted Themelis (2008) Gems & mines of Mogok
Ted Themelis (2008) Gems & mines of Mogok
[var: Meionite] Ted Themelis (2008) Gems & mines of Mogok
Gems, Sixth Edition, Michael O'Donoghue, 2006, p. 446
Ted Themelis (2008) Gems & mines of Mogok
Ted Themelis (2008) Gems & mines of Mogok

Pein-Pyit (Painpyit; Pyan Pyit)

Ted Themelis (2008) Gems & mines of Mogok
Ted Themelis (2008) Gems & mines of Mogok

Peru

J. Hyrsl (2012) Gemstones of Peru, p. 71

Tajikistan

Zolotarev (1993)

Tanzania

Barot et al. (1995)
Gemstones of the world, W.Schumann, 2001, p.188

Uluguru Mts (Uruguru Mts)

Gems, Sixth Edition, Michael O'Donoghue, 2006, p. 446